Source: www.gulfoilandgas.com 4/5/2011, Location: Middle East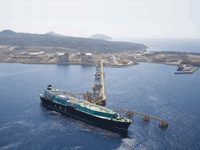 A news agency reported on April 4th an attack against Yemen LNG facilities in Shabwah. Yemen LNG denies this report. There was no attack against any Yemen LNG facility, there was no evacuation of any personnel. Yemen LNG currently operates normally at all worksites and produces LNG at nominal capacity. LNG exports steadily continue at the pace of two LNG carriers per week.


Unrest in MENA - The New Oil Order
Middle East Oil Supply - May 2013

Oman >> 5/23/2013 - Middle East oil supply is believed remain steady in 2013 and drop 10 tb/d to average 1.49 mb/d, representing a downward revision of 10 tb/d from the p...




More News
Related Links
Countries Quick Links