Source: Reuters 7/12/2011, Location: Africa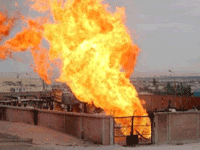 An explosion rocked an Egyptian gas pipeline distribution station in northern Sinai on Tuesday, the governor of Northern Sinai told state television. Nile television said the blast occurred east of the town of Al-Arish, but gave no details on the cause or the extent of the damage.


Unrest in MENA - The New Oil Order
Total Buys Shell's Retail Network in Egypt

Egypt >> 5/15/2013 - French oil company Total SA Wednesday confirmed it acquired Royal Dutch Shell PLC's fuel retail network in Egypt as part of its strategy to strengthen...




More News
Related Links
Countries Quick Links