Source: www.gulfoilandgas.com 7/18/2011, Location: Middle East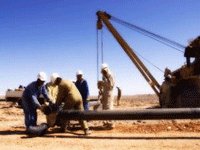 TransGlobe was advised on July 16th that the export pipeline from Marib to the Ras Issa facility on the Red Sea was repaired on July 15th. The operator of Block S-1 began shipping sales crude oil on July 16th and commenced production from the An Nagyah field.

The operator is currently ramping up production from the field and is producing approximately 8,300 Bopd Gross (2,075 Bopd to TransGlobe) this morning. Block S-1 produces a high quality (43 API) sweet crude oil and typically receives Brent pricing. Block S-1 production (approximately 2,300 Bopd to TransGlobe) was shut in since March 17th, 2011 due to damage to the export pipeline.

The Company will provide updated Guidance for 2011 with the second Quarter financial results, which are scheduled for release on Monday, August 8th.




Unrest in MENA - The New Oil Order
| | |
| --- | --- |
| | |
Middle East Oil Supply - May 2013

Oman >> 5/23/2013 - Middle East oil supply is believed remain steady in 2013 and drop 10 tb/d to average 1.49 mb/d, representing a downward revision of 10 tb/d from the p...




More News
Related Links
Countries Quick Links