Source: www.gulfoilandgas.com 11/23/2011, Location: Asia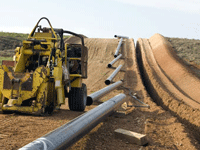 Aiming to safeguarding pipelines in places where both seasonal and permanent rivers pass, preliminary engineering studies will commence soon.

According to NISOC Department of Contracts & Legal Affairs this project includes indentifying the places where oil, gas and NGL pipelines cross, safeguarding fluid transmission operation with maximum regard to environmental issues and procuring required equipment for prompt reaction in case of any leakage from pipelines.

The value of the project is estimated at $2.2 million, and it is scheduled to be carried out within a 12- month period.

As the largest oil producer, National Iranian South Oil Company (NISOC) operates in Kouzestan, parts of Kohgilouyeh & Boyer Ahmad, Fars and Boushehr provinces.

22,000 kilometers long of oil, gas and NGL pipelines lay within the company.

NISOC output accounts for 80% of total domestic production.


| | |
| --- | --- |
| | |
China Oil Demand in July 2014

China >> 7/24/2014 - Chinese oil demand indicators have been rather mixed as some products showed strength, such as gasoline and LPG, while other products showed some weak...


Japan Stock Movements in July 2014

Japan >> 7/22/2014 - In Japan, total commercial oil stocks rose by 8.5 mb in May, following a build last month, to stand at 159.2 mb. Despite this build, Japanese oil inve...




Russia Economy in July 2014

Russia >> 7/20/2014 - The country's GDP posted growth of -0.5% q-o-q in 1Q14, while the yearly comparison showed growth of 0.9%. Retail sales in May grew by 2.1% y-o-y, the...


India Oil Trade in July 2014

India >> 7/16/2014 - India's May crude imports declined by 493 tb/d or 12% from the previous month to average 3.5 mb/d. Annually crude imports showed a drop of 522 tb/d or...




More News
Related Links
Countries Quick Links