Source: KUNA 1/24/2012, Location: Middle East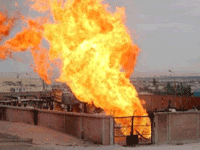 A gas leakage and fire occurred early near the 170 natural gas complex in Um Ghadir west of the country, Kuwait Oil Company (KOC) reported, pointing out the situation was brought under control within an hour. A KOC statement to KUNA said that fire teams and medics rushed to the scene, and that the incident caused minor in-direct injuries to four employees during the evacuation. KOC affirmed that a committee is to look into the causes of the incident and that operation and production are "unaffected".


Unrest in MENA - The New Oil Order
Middle East Oil Supply - May 2013

Oman >> 5/23/2013 - Middle East oil supply is believed remain steady in 2013 and drop 10 tb/d to average 1.49 mb/d, representing a downward revision of 10 tb/d from the p...




More News
Related Links
Countries Quick Links