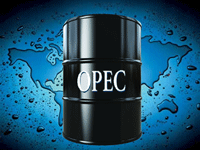 In June, both crude oil futures contracts, ICE Brent and Nymex WTI, slipped further to multi month lows as both shed over 13% of their value, the highest month-to-month reduction since the 25% reached during the global financial crises in late 2008. Compared to the end of the 1Q12, the 2Q ended with the values of both front-month contracts down by close to 25%. In June, Nymex WTI front-month contracts declined by $12.31 on top of a $11.49 fall since the beginning of the 2Q, the start of a decline streak, to accumulate a hefty $23.80 in losses over one quarter, erasing the previous two consecutive quarters' gains. Meanwhile, ICE Brent front-month losses over June and the 2Q were much bigger, with a $14.36 and $28.62 decline, respectively. Several factors not much different from the previous month led to this deep reduction in futures prices. The worsening economy, predominantly in the Euro-zone, and speculators increasingly going less long in their positions, as well as the signs of a global crude oil stock build, were the main factors driving prices down. Concerns about Europe's debt and economic crisis revived again in June when it became clear that Spain and Cyprus would have to be bailed out. Downgrades of 28 Spanish banks by Moody's quickly followed.

This, along with poor US jobs data and a slowing Chinese manufacturing output, shows that economic worries are not limited to Europe, which in turn sparked broad consecutive sessions of market sell-offs in both equity and commodity markets. HSBC's preliminary China Manufacturing PMI fell further in June, raising fears of a downturn in China's economic activity, while a cut in the interest rate for one-year loans by the Chinese central bank hinted at Beijing feeling the need to increase stimulating measures. Moreover, the cutting of managed money net long positions continued over the month on both futures markets. CFTC data showed that Nymex WTI net long positions fell to their lowest levels since September 2010, dipping 9% from the previous month. ICE Brent net long positions declined the most — by a stunning 49% — since late May, according to ICE data. Given recent developments in outright prices, the fact that money managers who were long in the market ran for cover may not come as much of a surprise; but a sell-off on such a large scale is sure to have infused more bearishness in the market. Moreover, US Energy Information Administration (EIA) figures showed that US stocks increased by around 170,000 b/d over 2Q and available Chinese customs data has hinted at implied stock builds of more than 250,000 b/d over the same period. These stock builds, which have come amid lower refinery runs, lower US imports of light sweet crude, economic run cuts in Europe and higher Libyan production, have contributed greatly toward the collapse of the two Atlantic Basin crude oil futures in June.

The Nymex WTI front-month averaged $84.41/b in June, the first time since October 2011 that it was less than $90/b, down 13% from the average in May. The ICE Brent front-month also fell by 13% or $14.36/b to end the month at an average of $95.93/b, the first time it fell below the key $100 in the last year and a half. Compared to the previous year, the front-month WTI year-to-date (1H12) average stood almost at the same level as in the 1H11, at $98.21/b, while ICE Brent was higher by almost 2% at $113.63/b. Both contracts were below the psychologically significant $100/b price in June. On 10 July, the crude oil futures prices for Nymex WTI and ICE Brent improved to $83.91/b and $97.97/b, $1.50 and $2.04 above the June average, respectively.

As pointed out earlier, data from the CFTC showed that on average, speculators further reduced their net long positions in US crude oil futures and options positions in the month of June, but to a lesser extent than in the previous month. Hedge funds and other large investors liquidated their net long positions on the Nymex by 12,567 contracts to 124,017 lots, a decrease of over 9%. During the 2Q12, net long positions were cut by almost 50%. The data showed that almost all the decrease was attributed to the massive liquidation in long positions contributing to the sharp drop in crude oil prices over the month as indicated earlier. Compared to the 1Q12, outright longs were down by a hefty 84,394 lots, dropping 32% by the end of the 2Q. In ICE Brent crude oil futures, speculators reduced their net long futures and option positions significantly — by a hefty 49% — during June to 41,415 contracts; half of the speculative net long positions have been liquidated as the downward pressure on the Brent market deepened this month. In the two exchanges, the combined reduction in net long positions was 52,110 lots or almost 25%, reaching 165,432 contracts. Long positions were down by 105,099 contracts to 302,175 lots.

The average daily traded futures volume during June for all WTI Nymex futures contracts increased by about 5% or 26,629 lots to average 590,244 contracts. Open interest decreased moderately by 8,600 lots to 1.43 million contracts, on average. In ICE Brent, overall traded volume increased by a hefty 21% or 125,396 lots to 713,694 contracts, and open interest also decreased by 5% to reach 1.18 million lots.