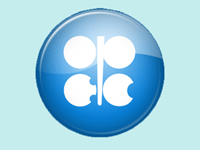 In the physical crude oil market, light-sweet/heavy-sour differential movements were mixed once more during June. While they dropped sharply in Asia, the differentials in the US widened and were stable in Europe. In Asia, the gasoline and naphtha cracks tumbled while fuel remained healthy, resulting in a sharp drop in the light-sweet/heavy sour differentials represented by the Tapis/Dubai spread. The average of fuel oil cracks improved over $1.00/b in June compared to May levels.

Meanwhile, Asian middle distillate cracks also improved, but proved insufficient to bail out the regional sweet complex. Moreover, the current weakness seen in the Brent market resulted in a premium in the Brent/Dubai EFS spread dipping to a multi-year low, causing the arbitrage window for crudes from the West to open wide. This exerted downward pressure on regional sweet grades, especially in light of Dubai's sustained strength. Asian refiners have currently been able to source Mediterranean light-sweets in favour of West African crude as spreads for these have reached record discounts to Brent recently. This, in conjunction with a change in US supply dynamics, has resulted in an abundance of West African cargoes which will likely be absorbed eventually by Asia. The Tapis/Dubai spread during June narrowed significantly to a multi-month low average of $5.83/b in favour of Tapis from the $9.88/b in May.

In Europe, the Brent/Urals spread widened marginally, reversing the previous month's gains despite low refinery utilisation rates in Europe, which were pegged at below 80% and which kept crude demand subdued over the month of June. But Med-Urals was supported by the anticipation of almost 10% lower supply in July out of the Mediterranean outlet. Meanwhile, regional light sweet barrels had a very bad month with low naphtha cracks pressuring the complex and even pushing the values of some of the grades to discounts to Urals Blend. The Brent/Urals spread stood at $1.38/b, 32˘ wider than the previous month's spread. Mid-month onward, the US Gulf Coast (USGC) sweet and sour grade spread, represented by the LLS/Mars spread, widened as sweet grades began to regain some strength over the month. Meanwhile, sour grades came under pressure from higher supplies.

Light sweet barrels managed to fight their way back from lows seen last month. LLS was last seen back at a premium to Dated Brent, following May's brief stint at discounts to the North Sea marker. Following the start-up of the Seaway link, higher inflows of light sweet barrels from the landlocked Cushing hub were likely behind LLS's weakness; however, recently the link may have begun pumping heavier barrels which has, in turn, relieved some of the pressure off regional light grades. On the other hand, heavier barrels have come under pressure from ample supply following the restart of offshore Mars platforms and significant delays for Motiva's Port Arthur refinery expansion restart. The LLS/Mars spread stood at $3.78/b on average in favour of LLS during the 2nd half of June, more than $1.50 wider than earlier in the month.