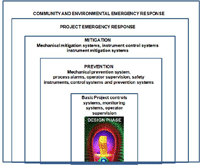 The importance of education in the workplace cannot be understated. Every day in some part of the world lives are lost, families are devastated and work place personnel are emotionally traumatized by the direct and indirect impact of such accidents.

On a greater scale, accidents that occur through organizational failure such as Piper Alpha and Bhopal not only resulted in catastrophic loss of life but resulted in the erosion and demise of the associated company's reputation and respect in oil and gas and heavy industry sectors.

Statistics show that 98% of these tragedies are attributed to unsafe acts, unsafe equipment and or unsafe conditions, all of which are preventable.

But why do workers continue to accept these tragedies as being part and parcel of the risk they take when they enter the workforce in such disciplines as heavy industry and construction?

Leadership all over the world has varying perceptions on the importance of ensuring they have a healthy and safe workplace. Some see it is as an additional expense, they cannot afford. Others feel that a safe workplace is a productive workplace, actually adding benefit to their company, reputation and the bottom line profitability.

During the concept stage of a project immense time, resources and finances are expended ensuring that the concept selection, decision making and Front End Engineering and Design (FEED) takes into account the impact the project would have on the workforce and the Community once the plant is in operation – so projects are designed to standards that mitigate all risk to as low as reasonably possible.

These processes are called Hazardous Operability Study (HAZOP) and Hazard Identification Process (HAZID). Both processes are critical in the design of the project to identify the potential for major failures and accidents during the project's operation and actually determine whether or not the project goes ahead.

The diagram below provides a great insight as to what occurs during the Concept and FEED process and clearly demonstrates the amount of planning and engineering required to actually transfer a project from the drawing board to reality.

When construction actually commences why is it leadership of some companies is reluctant to commit an equal amount of resources (as that at the Concept / FEED stage) to protect the workers during the construction phase? To ensure the personnel assigned to actually construct the project have safe equipment, safe work areas and are not expected to take shortcuts to deliver the project at the risk of their own health and safety?

Benefits of independent review

Companies throughout the world employ their own HSE professionals and maintain their own HSE Departments. In doing so, they are to some degree settled into a false sense of security and this only becomes apparent when tragedy strikes.

Leadership becomes complacent not intentionally, but adopt the approach "if it is not broken don't change it". This is especially true when there are few injuries, or where a company has a "good" lost time injury rate. HSE policies, procedures, risk assessments and training too often become out of date, therefore exposing personnel to latent dangers that have slipped through the safety net that these programs are designed to create.

It's at this point I would encourage all Managing Directors, CEO's to ask themselves these three groups of questions and be absolutely honest with their response, because only when you can answer positively to these will you have taken the initial step toward HSE Excellence.

1.Leading by Example....Are my actions in line with mine or the companies stated values?
How do people describe my credibility?
What aspects of my leadership would an independent observer view as exemplary?

2.Leading with Empathy....How well do I understand my people?
Do they see me concerned for them as a real and whole person?
Do my people think I really care for them?
What is the quality of our relationship?
How well do I understand their concerns and needs and take appropriate actions?

3.Leading towards Excellence.....Am I regularly engaging in dialogue with my people, which creates a greater value than if we acted alone?
Am I engaging with the people in my team to ensure that gaps and blind spots are constantly being identified and improved upon?
Do my people feel that expectations are clear and that they are encouraged, motivated, learning new skills and are appreciated?

Having specialists review the health of your current systems to establish whether there are any serious gaps and that the programs is working well is akin to auditing the robustness of the company's financial systems. Only by testing these systems on a regular basis can we ensure that the education passed onto employees via these programs is relevant to what they do and that we provide them with the appropriate protection against the risk(s) they are exposed to.

There are many HSE Consultants throughout the world. The varying disciplines within the construction and heavy industry sector dictates what expertise is required to realize a project's moral and legal responsibility. To ensure that employees go home at the end of each day without injury or ill health.

Consultants such as the Santis HSE Group that specialize in customized solutions are the ones most sought after in industry because they target the high risk areas. We develop packages and enhance existing programs not just to deliver information, but to train employees and increase their competence. In this way, leadership can answer yes to some to the questions above – and they are starting to create a sustainable and safe operation.