Source: OPEC 8/6/2012, Location: Asia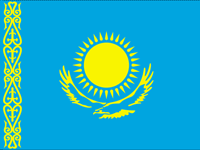 Total FSU crude exports dropped by 463 tb/d to average 6.4 mb/d after reaching a record level in April 2012. The decrease of export volumes in May was attributed to the increasing demand from local refineries and supported by high profitability. Russian pipeline crude exports dropped as well by 147 tb/d or 3.3% m-o-m to average 4.4 mb/d. The supply of Russian blend to China fell by 3.2% to 299 tb/d. Likewise, exports from Kozimino saw a similar decline of 3.1%. Both CPC and BTC crude exports had declined by 20.2% and 12.2%, respectively.

Kazakh crude rail exports reached their lowest levels this year by losing 58 tb/d to average 110 tb/d resulting in a m-o-m decline of 34.5%. Ural exports through the Baltic decreased by 5.6% to average 1.8 mb/d, while exports from the Black Sea decreased by 7.8% to average 836 tb/d. Total FSU products exports declined in May by 6.4% or 619 tb/d to stand at 9.1 mb/d. The decline in products exports was seen across all products with the exception of vacuum gasoil, which saw an increase of 10.5% over the previous month.


| | |
| --- | --- |
| | |
US Oil Trade in April 2013

Austria >> 5/20/2013 - According to preliminary data, US crude oil imports in April were almost stable compared with last month's level, averaging 7.7 mb/d, though they lost...


Saudis Cut March Crude Exports

Saudi Arabia >> 5/19/2013 - Saudi Arabia, Kuwait, and Venezuela reduced crude oil exports in March from the previous month while West African members of the Organization of Petro...




Asia Pacific Oil Supply - May 2013

Australia >> 5/18/2013 - OECD Asia Pacific supply is foreseen to decline by 30 tb/d to average 0.50 mb/d in 2013, indicating a downward revision of 20 tb/d compared to the pre...


India Oil Trade in April 2013

India >> 5/17/2013 - India's crude oil imports dropped In March both on a monthly and on an annual basis. The drop is equal to 75 tb/d or 2% m-o-m, while y-o-y it saw a sl...




FSU Oil Trade in April 2013

Russia >> 5/15/2013 - In March, total crude oil exports from the FSU declined by 57 tb/d or 0.9% to average 6.4 mb/d. Crude exports through the Russian pipeline increased b...