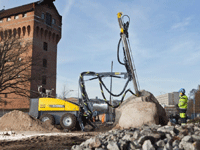 One of the smallest radio controlled drill rigs in the Atlas Copco range has become one of the most versatile thanks to an innovative rollover feed system. Atlas Copco's FlexiROC T15 R drill rig, which is used for a wide variety of small-scale drilling jobs such as preparing building sites and trenching, has now considerably expanded its field of application.

The reason is a completely new boom concept which enables the rig to switch from downwards drilling to upwards drilling in one easy operation. This facility on the FlexiROC T15 R is extremely easy to use. All the operator has to do is put the rig into tramming mode, remove a locking pin, push the feed round 180 degrees, replace the pin and start drilling once again. This procedure, called re-pinning, takes just a few minutes and enables the rig to be used in eight different configurations, including toe-hole drilling at various angles, upwards or downwards. The switch is also safe to carry out as the feed beam is in a resting position while the re-pinning is being done.

"The FlexiROC T15 R is now even more valuable to have in the fleet," says Erik Ahlstrom, Product Responsible Service Engineer at Atlas Copco Surface Drilling Equipment. "With a great vertical coverage area of 18 square meters it can go from drilling vertical holes to horizontal toe-holes and then to upward drilling for, for example, rock reinforcement all from the same set-up."

The rig is also extremely economical to run thanks to its high-torque Cummins B3.3 (Naturally Aspirated) diesel engine. During tests in Sweden with 47 % active drill time drilling 45 mm holes in hard granite, the recorded fuel consumption was less than 5.7 litres per hour.