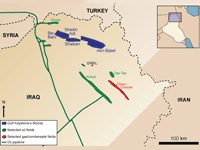 Gulf Keystone is pleased to announce that the Shaikan-6 appraisal well has spudded on the Shaikan block in the Kurdistan Region of Iraq on 16th December 2011.

Shaikan-6 is the fourth deep appraisal well to be drilled on the Company's major oil discovery with independently audited gross oil-in-place volumes of between 8 billion barrels and 13.4 billion barrels calculated on the P90 to P10 basis with a mean value of 10.5 billion barrels.

Shaikan-6 is being drilled 9 km to the east of the Shaikan-2 appraisal well to an estimated total depth of 3,800 metres subject to technical conditions. Shaikan-6, the last appraisal well to be drilled as part of the Shaikan appraisal programme, will target prospective intervals in the Jurassic and Triassic.

Shaikan-6 will be followed by the Shaikan-7 exploration well in 2012, which will target potential untapped resources in the lower Triassic and the Permian, the Company's deepest undrilled horizon to date.

Gulf Keystone is the Operator of the Shaikan block with a working interest of 75 per cent and is partnered with Kalegran Ltd. (a 100 per cent subsidiary of MOL Hungarian Oil and Gas Plc.) and Texas Keystone Inc., which have working interests of 20 per cent and 5 per cent respectively.

John Gerstenlauer, Gulf Keystone's Chief Operating Officer commented: "Shaikan-6 is the tenth well to be drilled across the Company's four adjacent blocks and the seventh well to be drilled on the blocks which Gulf Keystone operates in the Kurdistan Region of Iraq. This number of completed and current exploration and appraisal wells comfortably places Gulf Keystone among top three operators in the region. As part of our high impact drilling campaign, planned and funded through 2012, the Shaikan-5 and Shaikan-6 appraisal wells will provide us with better understanding of the flanks of the massive Shaikan structure and its yet untapped resources."