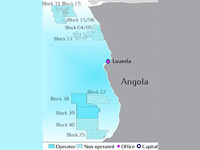 Statoil has been awarded operatorship for blocks 38 and 39 and partner position in blocks 22, 25 and 40 in the Kwanza Basin in Angola. This follows the conclusion of the competitive Limited International Bidding Round organised by Sonangol for access to pre-salt acreage in the Kwanza Basin offshore Angola.

"With 20 years of experience in Angola and a position as one of the largest producers in the country, becoming an operator of two pre-salt licences is an important milestone for Statoil. The Angolan pre-salt is a frontier play with high potential, believed to be analogous to pre-salt Brazil. Early access to a multiple block portfolio in exploring this new play gives Statoil exposure to significant upside potential should the play be proven," says Tim Dodson, executive vice president for Exploration in Statoil.

Statoil is the operator for the following blocks with 55% interest:

Block 38 - Partners are Sonangol P&P and China Sonangol with 30% and 15% interest, respectively.
Block 39 – Partners are Sonangol P&P and Total with 30% and 15% interest, respectively.

Statoil is a partner in the following blocks with 20% interest:

Block 22 - Repsol is the operator with 30% interest, and Sonangol P&P is a partner with 50% interest.
Block 25 -Total is the operator with 35% interest, while BP and Sonangol P&P are partners with 15% and 30% interest, respectively.
Block 40 - Total is the operator with 50% interest, and Sonangol P&P is a partner with 30% interest.

Sonangol has a carried interest of 30% in all blocks during the exploration phase. Statoil will have a financial commitment of approximately USD 1.4 billion relating to the above-mentioned awards, including signature bonuses and a minimum work commitment.

The work commitment consists of 3D seismic acquisition spanning in total 18,400 square kilometres and participation in eight exploration wells in total. Statoil will also contribute to the development of Sonangol's Research and Technology Center, social projects and training programmes for Sonangol employees.

Statoil's technical and subsurface competence, experience in international deep water exploration and established track record in planning and executing large complex offshore projects will be beneficial in unlocking the exploration potential of this pre-salt play.

Statoil is already partner and has shares in blocks 4/05, 15, 15/06, 17 and 31. The Angolan continental shelf is the largest contributor to Statoil's production outside Norway. Statoil's equity production from blocks 15, 17 and 4/05 yielded 173,000 barrels of oil equivalent per day in 2010 – 34% of the company's total international oil and gas output.