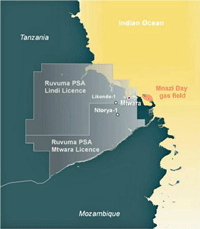 Aminex PLC announces an update on drilling of the Ntorya-1 exploration well in the Ruvuma Basin onshore in Tanzania. The well was spudded on the 22 December 2011 and after subsequent drilling, casing was set at 125 metres and again at 548 metres. Following successful installation of the top drive to the rig the well is now drilling ahead at a depth of 620 metres. The target interval of the well is approximately 1,800 to 1,900 metres depth. Ntorya-1 is expected to reach total depth in late January 2012.

The Ntorya-1 well is designed to test the high quality Basal Tertiary and Upper Cretaceous sands previously encountered in the Likonde-1 well, 14 kilometres to the north. Aminex estimates that the Ntorya Prospect has a probability of success of around 20%, with mean recoverable resource potential of 100 million barrels of oil equivalent.

Partners in the well are: Ndovu Resources Ltd (Aminex) 56.25% (operator); Tullow Tanzania B.V. 25%; Solo Oil plc 18.75%.