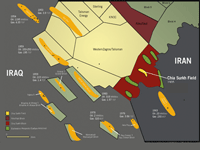 Genel Energy plc (Genel Energy) announces a step forward in its strategy to consolidate its position as a leading oil and gas player in the Kurdistan Region of Iraq by becoming the government's sole Contractor in the Chia Surkh exploration block. The Company said that it is to increase its interest in the block from 20 per cent to 80 per cent and will become licence Operator. Chia Surkh covers an area of 984 square kilometres in the southern part of the Kurdistan Region and has prospective resources estimated at more than 300 million barrels of oil equivalent.

Genel Energy is paying a total of $68 million for the 40 per cent interest currently held by Forbes & Manhattan (Kurdistan) Inc, a subsidiary of Longford Energy Inc. (F&M). This consists of $42 million to be paid directly to F&M and $26 million to be paid to the Kurdistan Regional Government in respect of F&M's outstanding obligations. Genel is also paying $26 million to Petoil Petroleum for their 20 per cent interest. Both transactions will be funded from Genel's existing cash reserves of some $1.9 billion. The Government will retain its existing 20 per cent carried interest. Genel Energy's chief executive officer Tony Hayward said: "These are excellent deals for Genel. For what we consider a very good price, they give us 80 per cent of a high-quality asset in one of the last great hydrocarbon provinces accessible to international investors. Becoming operator will allow us to take the lead in shaping and driving forward a thorough exploration and appraisal programme.

"This is a block which saw a limited amount of surface exposure drilling in the earlier part of the 20th century, an era when explorers were seeking billion-barrel finds. Two of those historic wells tested hydrocarbons, one oil and the other gas.

"More recent seismic data, acquired in 2010, confirmed Chia Surkh as a faulted anticline that contains three or four structures we consider interesting," Hayward said. "Operations are already in train for an exploration well this year. We anticipate further drilling over the next two years as we conduct a comprehensive exploration programme to fully evaluate the block."

The acquisition will add some 183.4mmboe of unrisked prospective resources to the Genel Energy portfolio based on an estimate by independent US assessors McDaniel & Associates that Chia Surkh contained unrisked mean prospective resources of 305.7mmboe, as of 30 June 2011.

The transaction is conditional on the receipts of various consents, approvals and assurances, including from Longford's shareholders and the Kurdistan Regional Government and completion on or before 1 March 2012. The acquisition of Petoil Petroleum's 20 per cent interest is conditional on the completion of the Longford acquisition. Genel Energy plc is an independent Anglo-Turkish oil and gas company created from the merger of Vallares Plc and Genel Energy International Limited. It re-listed on the London Stock Exchange in November 2011.