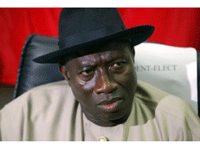 Unions in Nigeria suspended strikes to allow further negotiations with the government after President Goodluck Jonathan announced a cut in petrol prices. Nigeria's fuel regulator removed the fuel subsidy on January 1 as part of efforts to cut government spending. Petrol prices then more than doubled to around 150 naira ($0.93) per liter and protests erupted across the country.

Around 70 percent of Nigerians live in poverty and view cheap fuel as the only benefit they get from an oil-rich state. Economists say the subsidy encouraged corruption and waste and transferred billions of dollars of government cash to a cartel of fuel importers. The government estimated it would save a trillion naira ($6 billion) in 2012 by eliminating the subsidy.

January 8 - Unions launched an indefinite nationwide strike.
Police shoot dead three people and wound more than 24 while dispersing protesters in the commercial hub Lagos and the largest northern city of Kano. Production of Nigeria's average two million barrels of crude oil a day continues.

January 9 - Tens of thousands of people march as banks, petrol stations and domestic airports close down.
Unions express anger at the deaths and urge the public to continue the strike until Jonathan restores the subsidy.

January 10 - Thousands take to the streets as the government's attorney general says striking public sector workers will not be paid, after the strike was ruled unlawful by the courts. Offices of international companies such as Shell and Exxon Mobil are shut. But Shell and the state oil company say output is unaffected.

January 11 - Oil workers threaten to shut down oil output. At a rally in Lagos, protesters chant slogans urging the government to go after corrupt leaders, not state welfare.

January 12 - President Goodluck Jonathan and labor unions hold talks to end the dispute. Abdulwaheed Omar, president of the Nigeria Labour Congress, says strikes will continue until an agreement has been reached. The strikes are costing Nigeria around 100 billion naira ($617 million) a day, central bank governor Lamido Sanusi says.

January 13 - Ships are unable to deliver fuel to Nigeria as strikes force ports to close.

January 14 - Unions and President Jonathan meet but fail to reach a compromise in talks.

January 15 - The main oil union says it will maintain output, not joining the walkouts for the time being. The government says more talks will be held. Jonathan meets union leaders and later says talks "yielded no tangible result" and he will pursue a policy of removing subsidies seen as breeding waste and corruption. The president does approve an investigation into any corruption in the subsidy regime.

January 16 - Trade unions suspend the strikes and protests after the president cuts petrol prices back to 97 naira ($0.60) a liter from around 150 naira.