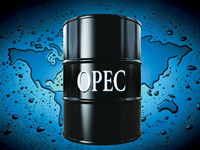 Crude oil futures markets were up significantly again in February, registering at least one new all-time high with the ICE Brent front-month striking a record high in euros of €92.80/b on 22 February. Besides a risk premium associated with supply concerns, which was inflated by a surge in speculative dealings, numerous other factors have caused crude oil future prices to surge to record highs, including widespread geopolitical concerns, increasing economic optimism in the US and progress in the Euro-zone debt crisis. In the meantime, concerns over high oil prices curbing economic growth, recessionary economic data out of Europe, repeated downward adjustments in global oil demand growth, the start of a seasonally weaker second quarter and significant increases in crude oil inventories in the US could not change a resilient upward momentum in crude oil prices. Continuing from the previous month's gains, ICE Brent front-month prices improved by a hefty $7.61 or almost 7% in February to settle at an average of $119.06/b.

This was an impressive performance that has not been seen since the $8.42 rise in April to the average of $123.09/b, on the back of the Libyan supply disruption. On the other hand, the WTI front-month improved by $1.94 to average $102.26/b in February, also the highest monthly average in ten months. Compared to February of last year, ICE Brent was higher by a hefty $15.03 or 14.50%, while WTI was up significantly by $12.52 or almost 14%. Unlike the previous month, the WTI front-month was volatile in February, trading in a very wide range of $13.45/b, implying increasing speculative activity. The trading range, the widest since October, has almost tripled compared to that of the previous month's range of $4.75/b. The WTI front-month traded at around $98/b in the first ten days of the month, before increasing above the key $100/b in the month's second tenday period. In the last third of the month, prices rocketed to near $110/b to average around $107/b. ICE Brent trade also changed course to become volatile, reaching a daily settlement of as high as $125.47/b on 24 February compared to $111.56/b at the beginning of the month.

Crude oil futures prices kept their upward momentum in the first week of March when Nymex WTI settled above $105/b and ICE Brent moved up above $120/b. On 8 March, ICE Brent stood at $125.44/b and Nymex WTI at $106.58/b. Data from the US Commodity Futures Trading Commission (CFTC) showed that speculators substantially raised their net long positions in US crude oil futures and options positions in the month of February. Hedge funds and other large investors increased their net long positions on the New York Mercantile Exchange by 42,447 contracts to 242,698, the highest since May 2011, indicating that hedge funds and money managers remained bullish on the contract. This also represents an increase of over 21%, a record m-o-m change.

The data showed that much of the rise was due to the establishment of outright new long positions, a reflection of bullish market sentiment that suggests prices are heading higher. Outright longs were up by 30,000 contracts, while shorts were cut by 12,440, indicating that as prices rose, bullish traders were backing the move. During this period, US crude oil prices rose from $97.61/b to $109.77/b. Furthermore, in ICE Brent crude oil futures, speculative activities also mirrored that of the US futures market, where net long futures and option positions increased to 126,802 lots during the last week of February. The average daily volume of traded futures during February for WTI Nymex contracts increased by a hefty 130,375 lots to 736,932 contracts or above 735 mb/d. For ICE Brent, the volume also increased by a substantial 11% to 573,277 contracts, while open interest increased sharply by over 8.5% to reach the key 1 million lots, again supporting bullish sentiments among investors in the paper market.