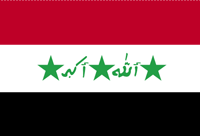 Baghdad unveiled a list of signing bonuses and the final contract for a forthcoming energy auction, the latest stage in a bold oil expansion plan that moves on from developing existing oilfields to searching for new reserves. After targeting production capacity in three post-war licensing rounds, Baghdad is now focusing a fourth tender mostly on finding gas in remote parts of western and central Iraq.

The country is potentially one of the world's last great-unexplored territories after decades of neglect due to wars and sanctions.

According to a "Final Tender Protocol" obtained by Reuters, the 12 oil and gas exploration blocks up for grabs on May 30-31 could net the central government up to $235 million in non-recoverable signing fees if they are all taken up.

Those companies awarded contracts will each be obligated to spend a minimum of $90 million to $130 million, depending on the block.

Companies will be able to extract gas discovered in the blocks immediately, but the Iraqi government has retained the option to make companies wait up to seven years to start extracting oil and pay them compensation in exchange. The auction was repeatedly pushed back as potential bidders had strong complaints about the terms of the initial service contract. Baghdad made some improvements in February.

"It was a move in the right direction, but there is still potential for a delay in development - especially if oil is found," said a senior oil executive.

The definitive model contract issued on Friday has only minor changes compared with the draft, said an Iraqi oil official.

"The economic terms in the final contract are more lucrative and favourable to the foreign firms compared to the service contracts of the previous rounds," he said.

U.S. oil major Exxon Mobil did not make the final list of 47 pre-qualified bidders for the fourth round, because it had signed a deal with the semi-autonomous Kurdish north.

But Exxon, along with other companies that have existing Iraqi licenses such as BP, Eni and Royal Dutch Shell, may look to explore for oil below and beside their existing oilfield projects, instead of competing for new assets.

Total has also provoked Baghdad by expressing interest in Kurdistan. But Chief Executive Christophe de Margerie, long a critic of Iraq's service contracts, said the French major will not seek deals in the exploration round.

"The majors that participated and were successful in the (first three) oil rounds have their fill of southern Iraq by now," said a Western oil company source.