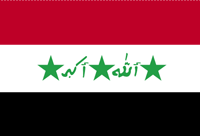 A simmering dispute between Iraq's central government and the semi-autonomous region of Kurdistan is an internal affair, a top Baghdad official said, in an implicit rebuff of U.S. efforts to broker a compromise between the two sides. "Of course there is American interest and goodwill to facilitate an understanding," said Iraqi Deputy Prime Minister for Energy Hussain al-Shahristani.

"But it was clear to all sides that any internal matter has to be discussed by Iraqis inside Iraq," he told reporters after meeting with U.S. Vice President Joe Biden.

Washington is anxious to ease a political crisis that erupted after U.S. troops left Iraq last year, which analysts fear could strain the country's unity if it escalates further.

Oil is at the heart of the broad dispute between Kurdistan in northern Iraq and the central government, which worsened when the Kurds stopped oil exports to Baghdad earlier this month in protest over non-payment.

Shahristani said no progress had been made in lifting the Kurdish oil export embargo.

"They were supposed to be sending a delegation to Baghdad, which has not come, to discuss this issue," he said.

Kurdistan Regional Government President Masoud Barzani recently met Biden in Washington and has also visited Turkish Prime Minister Tayyip Erdogan, who has publicly chided Iraqi Prime Minister Nuri al-Maliki for stoking the conflict.

This blunt break with traditional diplomacy drew sharp words from Baghdad, which Shahristani echoed in Washington.

"We regret that we hear some of the comments that have been coming from Ankara," he said. "We do not appreciate comments from others, or interference in our internal affairs."

However, Shahristani said he did not expect the dispute to harm trade, including oil exports, between the two neighbors. Iraq is Turkey's second-largest trading partner with trade of $12 billion last year.

In addition, Iraqi cleric Moqtada al-Sadr, a powerful broker in the country's coalition government, visited Kurdistan in an effort to lower tensions.

Shahristani said bilateral talks were welcome, "but they are not a substitute for a national conference, where all parties are present."

The White House, concerned by high U.S. gasoline prices in an election year, wants to do everything possible to boost the supply of oil on to world markets.

Biden's office said the vice president had "reaffirmed our commitment to work with Iraqi leaders across the spectrum to support the continued development of Iraq's energy sector."

Iraq sits atop some of the largest oil reserves in the world and has ambitious plans to lift production.

But development has been clouded by tension between Baghdad and the Kurds, who have signed exploration deals with several foreign oil companies, including U.S. oil major Exxon Mobile, which are deemed illegal by the central government.

Shahristani said the issue of Exxon Mobile had not been raised during the talks with Biden.