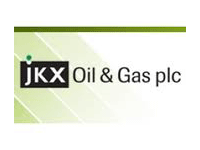 JKX Oil & Gas plc (JKX) is pleased to announce that YGE, its wholly owned Russian subsidiary, has been awarded the Giorgievskoye exploration licence in the Republic of Adygea, southern Russia.

The largest part of the 170.7 sq km licence lies adjacent to, and immediately south of the 32.65 sq km Koshekhablskoye production licence. However, a significant part of it also runs to the northwest of the Koshekhablskoye field and covers its east and west flanks.

The 3D seismic survey undertaken by YGE in 2007 covered a total of 105 sq km, and extended into what is now the Giorgievskoye exploration licence. Interpretation of the data demonstrated that part of the Koshekhablskoye field lay outside the borders of the production licence. Acquisition of the Giorgievskoye licence ensures that the whole of the mapped field area is now secured under licences held by YGE.

Mapping and material balance reserves determinations have indicated that most of the Oxfordian 2P reserves in the new licence area will to be recoverable through the existing wells on the Koshekhablskoye field. However, a further 30-90 Bcf of contingent Oxfordian gas resources could be recovered by additional drilling, together with a total 140-180 Bcf of Callovian gas resources. There is also an additional lead in the south of the block, beyond the existing 3D seismic coverage, with estimated P50 gas resources of 30 Bcf unrisked.

JKX Chief Executive, Dr Paul Davies, commented:
"We are very pleased to have secured this licence which not only has the potential to increase our reserves base but allows us to move forward on development plans for the whole of the Koshekhablskoye field immediately."

JKX Oil & Gas plc is an exploration and production company listed on the London Stock Exchange. The Company has licence interests in Ukraine, Russia, Hungary, Slovakia and Bulgaria.