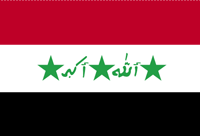 Iraq will auction 12 new oil and gas exploration blocks this week in a fourth energy bidding round, as it seeks the rapid expansion of a sector vital to its economy, but tough contract terms mean Baghdad may struggle to drum up major interest.

The country, a member of the Organization of the Petroleum Exporting Countries (OPEC), has the world's fourth largest oil reserves and can offer some of the last potentially rich unexplored territories after its energy sector was left under-developed by decades of war and economic sanctions.

Foreign energy companies are hesitant over Iraq's offer of service contracts, under which they would be paid a fee for their services. Such deals are seen as less advantageous than production-sharing contracts, through which explorers can claim a share in profits from output.

The auction, now scheduled for Wednesday and Thursday, has already been postponed several times by the oil ministry to address complaints by potential bidders about contract terms.

In February, Baghdad made concessions to lure participants to the round, notably by dropping a clause that required companies to be partners with a state oil operator.

"Everything is in place to make this a success and as part of that we have eased the contract terms," Abdul-Mahdy al-Ameedi, director of the oil ministry contracts and licensing directorate, told Reuters.

Companies will still have to weigh the limited advantages of service contracts, especially if they are not immediately given access to any crude oil, against risk from Iraq's political instability and the absence of a formal legal framework for the contracts due to delays in passing a national oil and gas law.

Companies that win bids will be able to extract gas discovered in the blocks immediately, but the Iraqi government has retained the option to pay companies compensation to keep oil in the ground and boost its own reserves.

The exploration blocks on offer are mostly in remote parts of western and central Iraq, making them riskier investments since the sites would be harder to protect against possible insurgent attacks.

"Neither the terms nor the acreage on offer are attractive, so I wouldn't be surprised if there were little interest from the international oil companies," said one senior Western oil executive, who asked not to be identified.

While violence in Iraq has fallen sharply since the height of the war in 2006-2007, Sunni Islamist tied to al Qaeda are still capable of bombings and attacks, mainly hitting security forces or government targets.

An important drawback is the Iraqi parliament's failure to agree on new hydrocarbon legislation because of a long-standing dispute over oil and land between the autonomous Kurdish region and Baghdad's Arab-led central government.

Without the new laws, Baghdad relies on legislation dating back to the nationalization of Iraq's oil industry in 1972.

According to a final tender document, the outcome of the bidding will be decided only according to the remuneration fee companies seek for each barrel of oil equivalent produced. The bid with lowest fee will win an exploration block.

Industry sources said companies would have to bid $10 to $20 a barrel for the service fee to compensate for the risk involved.

"The remuneration fee bids will have to be at least that high to make any sense of the economics," said an oil company source.