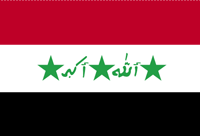 Iraq's fourth energy auction ended with few foreign investors tendering bids after a disappointing showing that could force Baghdad to ease tough contract terms to lure more oil explorers into a new bidding round.

The lukewarm response to Iraq's latest energy bid - only 3 of 12 blocks were awarded - is a setback for the OPEC nation's plans to expand its energy industry and compete with regional powerhouse Saudi Arabia after years of war and sanctions.

The lethargic second, and final, day of bidding followed a sluggish start on Wednesday when only one block was taken by Kuwait Energy; four other blocks got no bids and another deal failed after companies rejected the government offer.

"We have to say we didn't expect this weak turnout from the companies, but we acknowledge terms for the contracts were tough," Sabah Abdul-Kadhim, head of the legal section of Iraq's oil ministry contracts and licensing directorate, told Reuters.

"If the terms were the main reason why we had few bidders for gas, then we should consider that in future auctions and have more attractive terms," he said.

A group led by Russian oil firm LUKOIL won a bid for a key oil block, the only high profile foreign company to make a play for fields Iraq had hoped would attract more oil majors.

Baghdad's less attractive service contracts combined with a recent boom in natural gas supplies and gas finds elsewhere in the world may have further quashed investor interest in a tricky gas prospect like Iraq.

LUKOIL and partner Inpex Corp of Japan won the deal for the 5,500-square-km Block 10 in Muthanna and Dhi Qar provinces in the south, one of the few fields in the auction executives had expected would attract investors.

A bid from Pakistan Petroleum also won gas Block 8 in Diyala and Wasit provinces in eastern Iraq. Four other blocks, and two from the first day that were re-offered, received no bids.

Iraq had hoped the auction would further spur the expansion of its energy sector as violence from its long war ebbs and investment picks up, nine years after the U.S.-led invasion that ousted Saddam Hussein. v But three previous upstream licensing rounds have already left Baghdad with more than it can handle -- in terms of oil and gas development and infrastructure challenges.

Big Oil's absence from the exploration round came as no surprise. Companies such as BP, Exxon Mobil, ENI and Royal Dutch Shell may be looking to explore for oil below and beside their existing oil field projects in southern Iraq.

Still, the government said it would shortly open a fifth round with more new oil and gas blocks up for auction.

Oil explorers who won blocks will immediately be able to extract gas discovered at their sites, but the Iraqi government has retained the option to pay compensation to companies to keep crude in the ground to help boost its reserves.

"We will start preparations in the next few months to start a 5th exploration bidding round. The round will include 10 to 15 new blocks," Oil Minister Abdul Kareem Luaibi told reporters.

"It will also focus on gas, while the oil will be used to boost out reserves."