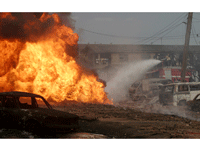 Two bombs exploded close to minor oil pipelines carrying crude from a major oilfield near Iraq's northern city of Kirkuk, according to security and oil sources who said exports to the Ceyhan port in Turkey were not affected. The attack occurred near pipelines, which carry oil from Bai Hassan oilfield to a degassing station in Kirkuk, an oil ministry spokesman and officials at state-run North Oil Company said.

"Two bombs blew up near two oil wells in Bai Hassan oilfield without causing a fire. We are assessing the damage and a technical crew has started repairs. Exports were not affected," Asim Jihad, a spokesman for the oil ministry, said.

The explosion occurred early and was caused by bombs placed under two oil pipelines around 45 km (25 miles) northwest of the oil city, an oil police official in Kirkuk said.

"We managed to defuse four more bombs in the same area," the official said on condition of anonymity.

Energy installations are frequently targeted by insurgents more than nine years after the 2003 U.S.-led invasion that ousted Saddam Hussein.

The bulk of Iraq's oil is exported from the southern terminals of Basra but around 400,000-450,000 barrels - a quarter of all exports - is pumped through the strategic Kirkuk-Ceyhan pipeline to Ceyhan port in Turkey.

The pipeline has a capacity of 1.6 million barrels per day.