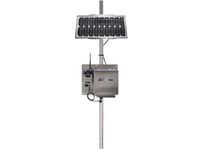 When conducting remote exploration operations and working in hazardous and rugged environments, there is a critical safety need to keep gas detection systems constantly powered – especially in areas where flammable gases or vapors present a health or safety threat. To solve this challenge, RAE Systems Inc. introduced its new SolarPak, an intrinsically safe, stand-alone 24/7 remote solar powered solution for wireless gas detection systems. SolarPak complements RAE Systems' PowerPak by delivering an uninterrupted power supply that enables its Mesh Guard Gas Detection Systems to monitor gas in remote exploration sites 24/7.

The RAE Systems SolarPak is the only solar solution certified for Class I, division I (ATEX Zone 0) hazardous locations, and is compatible with all RAE Systems MeshGuard wireless gas detectors and Mesh Routers. The SolarPak features an integrated solar panel and charge controller to charge the RAE PowerPak external battery, which enables continuous operation of gas detection systems. The remote, stand-alone SolarPak and RAE PowerPak solution dramatically reduces labor and maintenance costs by eliminating the need for expensive trenching and cabling or periodic changing of batteries.

RAE Systems MeshGuard Gas Detection System

RAE Systems' MeshGuard Wireless Gas Detection System is a battery operated, rapidly deployable hazardous area monitoring system that combines advanced gas-detection technology with the latest in wirelessly connected data systems. Its rugged design delivers reliable performance in harsh and potentially hazardous industrial environments, such as oil refineries, oil and gas exploration, oil and gas production, plant maintenance turnarounds, tank farms and facility fenceline monitoring. With the addition of the SolarPak the MeshGuard System is deployable in virtually all hazardous locations.

"Uninterrupted access to toxic and flammable gas data is critical to health and safety operations in hazardous remote environments. The SolarPak allows us to significantly expand the functionality of our MeshGuard product line by filling a need in the marketplace for a 24/7, intrinsically-safe, remote power supply for use in rugged environments," said Thomas Negre, RAE Systems Vice President of Products and Marketing. "Our new SolarPak solution is capable of supporting sensors with significant power requirements, such as the industry standard LEL catalytic bead which can now be met around-the-clock with the RAE Systems SolarPak."

A complete MeshGuard gas detection system can be deployed in minutes, and will operate continuously – even in cloudy conditions – with the RAE PowerPak and SolarPak. The standard pole and wall mount adjust easily to maximize energy production at different geographic locations.