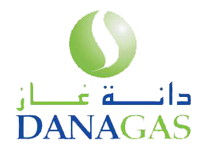 One person died and four were injured in an explosion at the Khor Mor liquefied petroleum gas (LPG) plant in the Kurdistan region of Iraq, plant operator Dana Gas said.

Dana Gas, which is based in the United Arab Emirates, blamed two LPG trucks belonging to a local LPG trader for the fire and accompanying explosion that killed a truck driver and caused extensive damage to the loading facility. It did not specify the damage.

"As a precautionary measure, the plant has been temporarily shut down while a full investigation is conducted and repairs are carried out," Dana Gas said in a statement.

"A partial production restarted from the Early Production Facility producing and supplying gas to the power stations."

Dana Gas has been active in Kurdistan since April 2007 and the LPG production facility at Khor Mor was opened in early 2011.