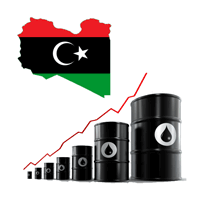 Libya expects to be back to pre-war oil production in October, later than previously forecast due to interruptions and the slow return of oil services firms to the North African country, Deputy Oil Minister Omar Shakmak told Reuters.

Output has climbed back close to pre-war levels of 1.6 million barrels per day (bpd) since a virtual standstill during last year's uprising that ousted Muammar Gaddafi but protests and interruptions have dealt the sector several setbacks.

"If everything goes as planned and there are no more interruptions, I think within three months time from now ... we hope we will achieve the 1.6 (million bpd)," Shakmak said. "Our plan was for by the end of July, the second quarter, but there are a lot of reasons - one of them the interruptions and also the delay of the support from oil technical service contractors. They are not back 100 percent."

Shakmak said current output was 1.56 million bpd, climbing back up after three major oil exporting terminals in the east, shut down by political protests before Libya's July 7 elections, restarted. Local militia had enforced a 48-hour stoppage to protest against the election of a national assembly they complained did not adequately represent Libya's eastern region.

The stoppages at El-Sider, Ras Lanuf and Brega shut half of Libya's oil exporting capacity and production was also cut by 300,000 bpd as a result of blockages at the terminals.

"Interruptions will affect the achievement of the objectives," Shakmak said. "No one can guarantee this can't happen again but we should do our best to avoid it."

In April, the headquarters of Libya's largest oil firm in the eastern city of Benghazi were closed off by protesters. And while foreign oil companies have returned to the country, services contractors have not been as fast as they await a clearer political and legal landscape after the polls.

FUTURE PLANS
Going forward, Libya plans to boost production which could reach 2 million barrels by end-2015, Shakmak said. "We're talking about the capacity of the production but the plan is that we should be able to have such production," he said.

He said there were also study proposals to upgrade the country's refineries and build two new ones. "A plan is being discussed for the development of the refinery industry in Libya, both upgrading the existing refineries and to have new refineries," Shakmak said. "They will study where we will have these two refineries - maybe in east, in the Tobruk area and Derna and the other one in the south." Asked when Libya's largest refinery, Ras Lanuf, would restart, Shakmak said: "Hopefully as soon as possible."

Ras Lanuf, which can process 220,000 bpd accounts for well over half of Libya's oil refining capacity and is an important source of refined oil products in the Mediterranean region.

The plant, run by a joint venture between Libya's National Oil Corporation and the Emirates-based Al Ghurair group, was shut during the war and its restart has faced repeated delays.