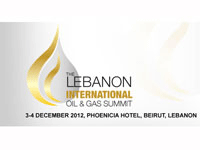 H.E.Eng Gebran Bassil, Minister for Energy and Water, Lebanon confirmed to host the opening ceremony at The Lebanon International Oil and Gas Summit taking place this December in Beirut.

The Lebanon International Oil and Gas Summit is a two day strategic conference held under the patronage of the Lebanese Ministry of Energy and Water and is set to take place 3-4 December this year at the prestigious Phoenicia hotel, Beirut. The Summit will provide a platform for leading Lebanese decision makers to engage with international and local investors to showcase the investment opportunities available throughout the region.

H.E. Eng Gebran Bassil, Minister for Energy Water and Electricity has officially confirmed his patronage of the event, 'At the Ministry of Energy & Water we're looking forward to The Lebanon International Oil and Gas Summit in December as it promises to unite the whole international oil and gas community here in Lebanon. These are exciting times for our oil and gas industry and the LIOG Summit will provide the opportunity for the leading players from across the Levant region to share ideas and discuss investment opportunities' confirmed an advisor at the Ministry.

The Summit is organised by Global Event Partners Ltd in partnership with the Lebanese company, Planners and Partners. 'Our international expertise along with our local network of government and industry supporters will ensure that the LIOG Summit becomes the leading international hub for trade and investment in the Lebanese Oil and Gas market' said Paul Gilbert, Managing Director, Global Event Partners Ltd. 'The response from our partners and supporters has already helped to establish the event on the industry calendar and the inaugural event looks to be a huge success' Gilbert said.

'The LIOG Summit comes at a really important time for the oil and gas industry in Lebanon, as the industry is still developing, it's crucial to have a forum like this where private and public sector oil and gas experts can meet to explore and discuss the future opportunities in the industry' concluded Dory Renno from Planners and Partners.

The LIOG Summit programme is being finalised in partnership with the Ministry and the steering committee of private and public sector partners and supporters. The agenda will unite the leading regional and international oil and gas experts to examine the investment opportunities in the region, explore the current challenges and identify future solutions for the successful development of the oil and gas industry in Lebanon.