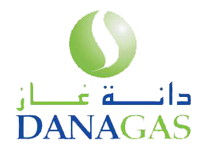 Leading Middle East private oil and gas company Crescent Petroleum and its partner and affiliate Dana Gas PJSC, the region's first private-sector natural gas company, have, in their capacity as joint operator of the Kor Mor field, announced that total production in their major gas operations in the Kurdistan Region of Iraq has grown steadily to reach 70,000 barrels of oil equivalent per day, with total investment to date approaching $1bn. The production includes 330 million cubic feet of gas per day and 15,000 barrels per day of condensate liquids, and there are plans for further expansion.

In total, over 249 billion cubic feet of gas and 11.7 million barrels of condensate liquids have been produced by the companies since the start of production in October 2008, with the gas supply to local power stations enabling 1,750 MW of new electricity supply. This has ensured almost continuous power supply for 4 million people in the Kurdistan Region, in contrast to the electricity crisis in other parts of Iraq, and provided billions of dollars of savings in fuel costs for the government and very significant environmental benefits in cutting down pollution and greenhouse gas emissions, while transforming the economic and social environment.

"We are proud to be the largest investors in the Kurdistan Region's oil and gas sector, and to have already enabled major economic and social benefits for the people of the Kurdistan Region and all of Iraq, especially with the improved and secure electricity supply," said Mr. Majid Jafar, CEO of Crescent Petroleum and Member of the Dana Gas Board of Directors.

"We are in discussions with the KRG Ministry of Natural Resources on the next phase of development and expansion, to grow our operations and enable further progress and prosperity for the local community."

The project partners had by the end of June invested a total of $963m under contracts signed with the Kurdistan Regional Government (KRG) for the Khor Mor and Chemchemal blocks in April 2007.

Major achievements of the project so far include: installing a 180km gas pipeline across challenging mountainous terrain that required the clearing of minefields; first gas production after only 16 months; drilling successfully to tertiary reservoir formations at depths of 2,300 metres, and importing and installing over 64,000 tonnes of equipment in over 3,500 truck-loads, and state-of-the-art gas processing plant imported from the USA.

Marking the production milestone, Mr. Rashid Al-Jarwan, Executive Director of Dana Gas, said: "This important milestone has been achieved with the cooperation and support of the KRG, as well as our partners, contractors and local staff. In addition regular payments are now being received by the producing companies, and we are working with the KRG to improve and resolve the outstanding receivables."

During the project's construction phase, work opportunities were provided for over 2,000 Iraqi workers from all ethnic groups and sects, supported by expatriate workers from over 20 countries regionally and worldwide.

The companies have successfully implemented a nationalization programme, and already achieved the target of 80% local staff ratio in their operations by the end of 2011.

Crescent Petroleum and Dana Gas have also implemented a corporate social responsibility programme to support the local communities, including providing school supplies, drinking water treatment, generators and fuel enabling 24 hour electricity for the local villages, mobile medical units, and youth sports facilities.

These initiatives are assisting the local communities in improving their standard of living, health, well-being, security and stability and the development of human capital in the Kurdistan Region.