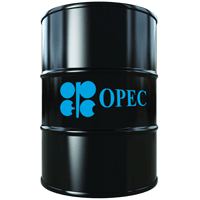 US total commercial oil stocks fell for the second consecutive month in August, declining by 13.6 mb to end the month at 1,091.8 mb. As a result, inventories stood at 12.4 mb or 1.1% below the level of a year ago, while the surplus on the five-year average was 17.2 mb or 1.6%. The drop was attributed mainly to crude, which decreased by 16.5 mb, while products rose 2.9 mb.

In August, US commercial crude stocks fell for the second consecutive month to end the month down 16.5 mb at 357.1 mb. Despite this stock-draw, inventories remained 7.8 mb or 2.2% above the same time last year, representing a surplus of 24.4 mb or 7.3% on the five-year average. This draw came mainly from lower crude oil imports, which decreased by around 300,000 b/d from the previous month to an average of 8.6 mb/d. This level was also lower, by about 320,000 b/d, from the same time last year.

Lower crude oil refinery inputs, which declined by nearly 350,000 b/d to average 15.2 mb/d, have limited the fall in US crude oil stocks. The level of US crude runs was also lower than the same period a year ago, by more than 200,000 b/d. In August, US refineries operated at 90.3%, which was 2.2 percentage points (pp) lower than in the previous month, but 0.9 pp above the same month last year. It should be highlighted that, on a weekly basis, the bulk of the draw on US crude oil stocks came during the week ending 31 August when inventories plunged by 7.7 mb.

This drop reflected the strong fall in US crude oil imports, which declined by 1.5 mb/d, averaging just 8.0 mb/d, the lowest level since the end of 2011. This was caused by delays to loading cargos on the Gulf of Coast. Crude oil stocks were further impacted by precautionary shut-ins of Gulf of Mexico oil production in reaction to Hurricane Isaac. The effects of having shutin 95% of offshore oil production in the region will be felt for the next few weeks, resulting in further declines in crude inventories, as companies continue re-staffing platforms and ramping up operations. In contrast to the huge decline of crude stocks at the national level, inventories in Cushing showed a different picture. Stocks at Cushing rose at the end August by nearly 0.7 mb to stand a 44.9 mb and remained significantly above last year's level.

In contrast to the fall in crude stocks, product inventories increased for the fourth consecutive month in August, accumulating more than 30 mb and ending the month at 734.7 mb. Despite this increase, product stocks remained at 20.2 mb or 2.7% below last year's level and 7.3 mb or 1.0% less than the five-year average. Within products, the picture was mixed; gasoline stocks saw a substantial decline followed by residual fuel oil, while all other products experienced a build. Gasoline stocks reversed the build of the last two months and decreased by 9.0 mb to end the month of August below 200.0 mb for the first time since October 2008. At this level, inventories stood at 13.4 mb or 6.6% below a year ago and 7.2 mb or 3.5% below the historical average.

The significant drop in gasoline stocks came mainly from higher demand averaging 9.2 mb/d, up by 400,000 b/d compared to the previous month and around 150,000 b/d more than a year ago at the same time. The increase in US gasoline demand came despite the driving season coming to an end, but the gasoline market is set to remained balanced in coming weeks as inventories in terms of days of forward cover are approaching the five-year average. Distillate stocks continued their upward trend in August for the second month in row, increasing by 2.8 mb and ending the month at 127.1 mb, the highest level since March 2012. Despite this build, they remained at 29.8 mb or 19.0% below the year-ago level and 25.6 mb or 16.8% lower than the seasonal norm.

Lower apparent demand was the main driver behind the build in distillate stocks. In fact, distillate demand fell by almost 120,000 b/d in August from the previous month to average 3.5 mb/d, which was also nearly 360,000 b/d lower than the same time last year. The continued strength in distillate exports, surpassing 1.0 mb/d, limited the build in distillate stocks. Distillate inventories are expected to continue this upward trend in the weeks ahead, as heating oil production picks up and inventories continue their seasonal build. Jet fuel stocks rose for the second month by 2.4 mb from a month ago. At 43.0 mb, jet fuel stocks stood at the highest level since November 2011 and were 0.3 mb or 0.7% lower than a year ago and 0.7 mb or 1.5% below the seasonal norm. Residual oil stocksfell by 0.9 mb, ending August at 33.1 mb/d. At this level, they were 5.7 mb or 14.7% lower than the same month a year ago and 4.1 mb or 11.0% below the latest five-year average.