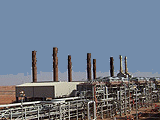 About 40 jihadist fighters raided Amenas gas development site located in the Illizi basin close to the Libyan border. While some hostages escaped in the early stages of the crisis, hopes soon faded for many others once the army decided to take on the raiders.

The militants arrived in nine Toyotas with Libyan plates and painted in the colors of Sonatrach Company that has 50 percent share in the project. The ease with which they entered the housing compound and nearby natural gas plant left Algerians in little doubt the gunmen had allies among people at the site.

Project Overview
The field produces 9 billion cubic metres (bcm) of gas per year, equal to around 11 percent of Algeria's yearly gas production. Algeria is an important gas supplier to Europe, most notably Italy and Spain, that it supplies via subsea pipelines.

The In Amenas site is located around 1,300 kilometres from the capital Algiers and is jointly owned by Sonatrach, BP, and Statoil. The project included the development of four gas fields (Tiguentourine, Hassi Farida, Ouan Taredert and Hassi Ouan Abecheu) covering an area of more than 2,750 square kilometers plus gas gathering and processing facilities.

The gas treatment plant was constructed with a capacity of 30 million cubic meters of gas per day. The plant consisted of three parallel trains of gas processing and condensate stabilization, including CO2 removal, mercury removal, molecular sieve dehydration, LPG recovery, residue gas re-compression (including waste heat recovery), and power generation.

Implications on International Players
Workers from the United States, Britain, France, Japan, Romania, Norway, Columbia, Malaysia and the Philippines were either dead or missing, with the overall death toll among hostages and militants put at 67 and potentially rising by up to five.

Beside BP and Statoil, major International players involved in this project include JGC Corporation of Japan, and Kellogg Brown and Root of Dallas who had been jointly awarded the engineering, procurement and construction contract for the gas treatment facilities, infrastructure, and evacuation pipelines.

Petrofac was awarded a substantial services contract on 8 January 2013 to provide a range of multi-discipline consultancy, design and procurement services in In Amenas asset.

North Africa Oil and Gas Industry is Facing a big Challenge
With current developments, the international business community is highly concerned about continuing business in Algeria. Recently Algeria's parliament acted quickly to endorse an oil and gas law, canceling a windfall tax on foreign firms, in a move seen as a bid to reassure foreign investors and reverse declining interest in the OPEC member.

BP has evacuated workers from Algeria and other firms had taken steps to remove foreign employees from desert sites.

Sonatrach estimates it is losing around $11 million a day due to the shutdown of the In Amenas plant. Algeria needs an oil price of $121 to balance its books, according to a November estimate from the International Monetary Fund.

Neighboring Libya has also beefed up security in its oil fields and energy firms were considering similar measures in Egypt as Islamist militants threatened to attack new installations in North Africa.