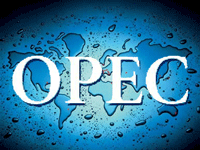 US oil supply is seen to increase by 0.57 mb/d to average 10.58 mb/d in 2013, indicating a downward revision of 20 tb/d from the previous MOMR for the annual figure, while growth remained steady. The downward revision affected all quarters on the back of the historical revision. In addition, updated production data for the early part of the first quarter supported the revision.

North Dakota's supply declined in January from the previous month, while Texas's output continued its healthy growth. The expected growth in 2013 is supported by the anticipated supply increase from shale oil plays in North Dakota and Texas, as well as by minor growth from other areas in Oklahoma, Kansas, Colorado and Wyoming. The infrastructure situation is improving in North Dakota, with reports suggesting that the railroad loading capacity will reach 1 mb/d. Eagle Ford oil production in January continued to increase from the same period a year earlier. On a quarterly basis, US supply is expected to average 10.57 mb/d, 10.62 mb/d, 10.56 mb/d and 10.55 mb/d respectively.

Furthermore, the restart of some ethanol plants in March on the back of lower corn prices supported the growth. The US ethanol stocks in March reached a 15-month low, which is expected to support production margins. Moreover, Alaska approved an oil tax cut which is expected to support oil production in the near future. On the other hand, reports claimed that many independent operators reduced their capital expenditure in 2013 from the previous year, and this could have a negative impact on growth.