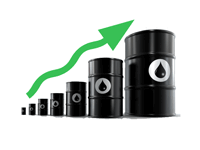 US oil production is forecast to increase by 0.59 mb/d to average 10.63 mb/d in 2013, the highest growth among all non-OPEC countries. This strong growth represents an upward revision of 60 tb/d from the previous MOMR, due mainly to updated production data for the early months of 2013, as well as historical updates. On average, total US supply increased by 0.84 mb/d in January and February, compared with the same period a year ago.

The robust ramp-up of tight oil production is the main force behind the strong growth seen so far in 2013. Tight oil output from the Bakken, Eagle Ford, and Permian formations has already shown strong growth this year, supporting the upward revision.

Drilling activity levels have surpassed expectations mainly on improved efficiency, and this could lead to further revisions in the future. In February, Texan crude oil production increased by 0.51 mb/d compared to the same period a year earlier and reached 2.30 mb/d, the highest level since April 1986. The growth was supported by the strong increase from the Eagle Ford which reached 471 tb/d in February, a 74% increase from the same period in 2012. During the first four months of 2013, oil drilling activities increased by 61% compared to the same period a year earlier. North Dakota oil supply averaged 0.78 mb/d in February 2013, a new record and 220 tb/d higher than February 2012. The increase in reserve estimation for the Williston basin is seen to support the growth.

Other tight oil activity is seen to continue to grow in 2013 and support growth. Reports suggested that tight oil drilling will start soon in Kentucky.

Furthermore, NGL production is seen to experience some increase and support the US oil production. Additionally, Gulf of Mexico output is expected to increase in 2013 supported by ramp-up of new developments, despite the report of the halt on Mad Dog phase two developments. However, weather conditions could affect production in the coming months, especially during the hurricane season, while upward revisions in the coming period might be possible on continued strong tight oil activities. On a quarterly basis, US oil supply is seen to average 10.62 mb/d, 10.67 mb/d, 10.62 mb/d and 10.61 mb/d respectively.