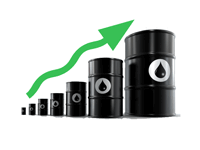 The value of the OPEC Reference Basket (ORB) improved slightly in June, inching higher after three months of consecutive declines. The ORB was supported by improving sentiment in the oil market relative to the previous month, despite a sharp fall in outright prices seen during the last decade of the month. The late slide in crude oil prices was prompted by news of a potential tapering of US stimulus spending later this year and a preliminary reading of the Chinese Purchasing Manager's Index (PMI) falling to a nine-month low in June, suggesting a contracting Chinese economy.

Signals from Europe were also bearish, with the downgrading of EU member Greece to emerging market status setting a worrying precedent, while the Euro-zone continues to struggle with spiraling unemployment. Positive developments in US shale oil supplies, which imply further reduced US imports, also contributed to the shift toward a more bearish sentiments at the end of the month.

The OPEC Reference Basket increased to a monthly average of $101.03/b in June, improving marginally by 38˘ or roughly 0.4% over the previous month. Compared to the same period last year, the Basket year-to-date value stood at $105.09/b, representing a drop of $6.96 or around 6%.

Most Basket components improved over the month, particularly sour grades. The uptick in buying interest and strengthening refining margins for the Middle Eastern sour grades contributed heavily to the improvement in the Basket value. Extensive refinery maintenance shutdowns in Asia tightened product markets, lifting refinery margins. Venezuela's Merey moved up by close to $1.50 month-on-month as formula element values improved, particularly WTS and WTI. Support also came from the ongoing healthy European sour market amid supportive refining margins and supply tightness. Meanwhile, naphtha-rich grades such as Saharan Blend — even with support from new destinations in Asia — continued to suffer from the weak European naphtha market, despite improving gasoline and distillate cracks.

The Middle Eastern grades, Qatar Marine and Murban, decreased by 10˘ over the month, also undermined by weak naphtha cracks and a strong fuel oil market in Asia, despite healthy gasoline and distillate margins.

Multi-destination grades Iran Heavy, Basrah Light, Kuwait Export and Arab Light on average strengthened by around 55˘. The value of Brent-related crudes from North and West Africa improved by some 15˘. Ecuador's Oriente lost 40˘ over the month. On 9 July, the OPEC Reference Basket stood at $104.06/b.