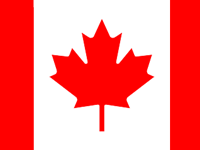 Oil supplied by Canada is foreseen to grow by 0.20 mb/d over 2013 to average 4.20 mb/d in 2014. This will be the second-highest growth level among all non-OPEC countries next year. It is supported by both oil sands and tight oil projects. The output surge from oil sands developments in Canada provides a solid ground for growth in 2014.

The startup and ramp-up of oil sands projects such as Blackgold, Christina Lake E, Cold Lake, Foster Creek F, Hangingstone 1, Jackfish 3, Kearl Lake 1, MacKay River 1, and Sunrise 1 will contribute to expected growth. Additionally, the expected increase in tight oil developments is seen to further support the output increase for 2014. Risks and uncertainties remain related to price levels and environmental, logistical and technical issues. On a quarterly basis, Canada's production is predicted to average 4.14 mb/d, 4.14 mb/d, 4.20 mb/d and 4.31 mb/d, respectively.

Mexico's oil production is expected to average 2.83 mb/d in 2014, a decline of 50 tb/d from 2013. Limited new volumes in 2014 from projects such as Ayatsil are not seen to offset the declines in mature producing areas.

Ku-Maloob-Zaap (KMZ), the largest of Mexico's fields, is expected to maintain its peak field production level in 2014, while supply from several other fields is seen to decline. Growth in the Chicontepec field is projected to be slow and limited in 2014, due to the field's complexity and various revisions to its development plan. Moreover, the Cantarell field's output is expected to remain stable, although with a tendency to decline in 2014. However, risks remain associated with the forecast, especially from decline rate developments and weather conditions. On a quarterly basis, Mexico's oil supply in 2014 is expected to average 2.84 mb/d, 2.81 mb/d, 2.83 mb/d and 2.83 mb/d, respectively.