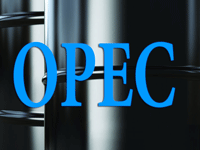 US oil supply is forecast to average 10.79 mb/d in 2013, indicating growth of 0.76 mb/d over the previous year and an upward revision of 30 tb/d from the previous MOMR. This growth is the highest among all the non-OPEC countries. The upward revision was incorporated to adjust for updated production data during the 1H13 that was partly carried over to the rest of the year. The upward revision was supported mainly by the strong output of the tight oil. North Dakota oil production achieved a new record high in May as output exceeded the 800 tb/d for the first time.

In May, despite the heavy rainfall that impacted drilling activities, North Dakota production averaged 810 tb/d, supported by a record number of wells of 8915 well. Furthermore, Texas oil production continued to increase supported by the growth from Eagle Ford basin, with output exceeding 2.5 mb/d in May, the highest monthly level since April 1982. Crude oil production from the Eagle Ford averaged 580 tb/d in May, a significant increase of more than 200 tb/d compared to same period a year earlier while the Permian basin production averaged 855 tb/d, a minor decline on a y-o-y basis.

The new platform for the Mars field has sailed and expected to start operations by the end of the year toward 2014 and support the output. The start-up of the new NGL facilities in Utica Ohio is seen to further support the growth in the US in 2013. Moreover, the start-up of the US first commercial scale quantities of cellulosic ethanol in Florida is seen to support the anticipated growth despite the volume being small.

On the other hand, Alaska oil supply continued to decline with reports providing that June 2013 ending fiscal year indicated an annual decline of 8% from the same period a year earlier and average 533 tb/d. According to preliminary and estimated data, US oil supply averaged 10.78 mb/d during the first half of 2013, a growth of 1.0 mb/d compared to the same period a year earlier. On a quarterly basis, US oil supply is expected to average 10.63 mb/d, 10.94 mb/d, 10.76 mb/d and 10.83 mb/d, respectively.