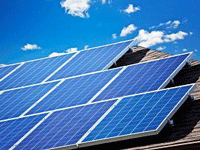 As both oil prices and power bills continue to spike there is no denying that we need to reassess how we generate our energy, so making the shift to solar power is becoming an increasingly popular decision. The volume of homeowners switching to solar has amplified significantly over the past few years, with environmental concerns more prominent and the change such a cheap long term advantage for consumers.

As a result of this increase, companies such as Western Power aren't making adequate money and are in a constant debate of pushing the power charges even higher. Those consumers that have made the decision to switch to solar won't be too affected, however those that haven't will be left in an even more unaffordable and frustrating position.

With solar technology improving and reducing in costs over time, and fossil fuel prices steadily growing, we look at the advantages and disadvantages surrounding the switch to solar power.

The Sun's Power
Of the biggest advantages of solar power is that it relies on the sun for its power source, making it absolutely free. Because the sun is constant, it provides a reliable and renewable source of energy that will always be there.

The downfall to this however, is solar power needs adequate amount of sunlight to reach its photovoltaic cells. Cloudy days can be an issue if there isn't enough sunlight to produce sufficient electricity and can then cause the system to shut down at night. To accommodate for this, a large number of solar panels are normally needed to produce greater amounts of electricity, requiring more space on your roof and expense.

Generating energy from the sun's power has the environmental benefit of not contributing to global warming and greenhouse gas emissions. As the sun doesn't rely on burning toxic fuels to generate electricity, solar power is non-polluting giving it a green tick of approval.

The $ Factor
Whilst most people see the price tag as a disadvantage, it actually works to your favour in the long run. The initial cost of solar panels are expensive, and going for the cheaper alternatives is highly disregarded with the problems it can cause down the track so your looking to fork out a decent amount of money to set things up.

The positive Solar power systems are an investment and do pay for themselves over time. It is also a fast growing trend around the world and as it continues to grow the cost of solar panels is dropping.

With power bills only getting higher and seeing no room for a break, the initial investment really is a small price to pay for the long term value and benefits. Having the last 12 months of your household bills handy when meeting with a solar power company will accurately work out what size solar panel system is right for your household's energy consumption and how it will impact on savings over the next few months and years.

Climate Control
With water becoming scarcer, droughts in many regions and every decision affecting the environment in extreme ways, it's no wonder we need to make some massive changes to save our planet. Electricity is a key factor that needs to be cleaned up and solar power provides a valuable option to do so.

Nuclear and coal power plants use massive amounts of water to operate only contributing to the world's water problems, solar power on the other hand barely uses any at all.

Solar Panels - Lifespan and Parts
Without the need for cords, power sources or wires, solar panels make for an easy installation. There are no moving parts in solar panels so once in, very rarely require maintenance for the duration of their lifespan so you never have to put money on them down the track.

Most systems have a life span of 30 to 40 years and come with a warranty for over 20 to 30 years, proving their durability and providing a lifetime of comfort.

An Unattractive Roof
As with any form of home renovations, it's not just about the costs and investments benefits - consumers want their add-ons to look the part too. It's not uncommon for people to think that solar panels aren't attractive to the eye and as an initial response, turned off by the idea of installing them on their roofs.

Traditional panels, like the silicon crystalline panels are big and bulky with their rigid frame and can contribute to consumers preferring style over efficiency. There are however, many modern systems that are sleeker and more attractive in their style, such as Uni-Solar which is rolled directly on the roof like regular roofing materials making it less noticeable.

It's hard to find too many disadvantages about renewable energy when the positives on both your wallet and the world around are so dominant. The technological advancements in solar energy systems have made them extremely cost effective and designed for specific needs, making it a versatile power option to carry you through the years, if not, a lifetime.

This article is written by Michael Dichiera, who heads up the Brisbane division of Infinite Energy, Australia's market leader in quality solar power systems.