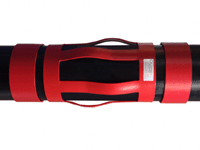 Centek Group, the leading centralizer manufacturer, has introduced its UROS-CT centralizer targeted on tight casing applications in deep water wells.

The UROS-CT is designed for use in tight tolerance casings where the centralizer is required to compress fully to travel between tight casing strings yet will expand to the designed open hole size. The UROS-CT is engineered to precise ring-gauge tolerances, partly because casing drift downhole is a major concern when running deep water wells, but also because the centralizer must compress as closely as possible to the casing as every millimeter saved allows for greater expansion in the open hole.

The other problem with tight casing strings is securing the centralizer in position. Bolt-on stop collars are too proud of the casing so Centek uses low-profile, positive stop-rings.

The UROS-CT fits straight on to standard casing joints, so there is no need to run an expensive pup joint and substantial rig make-up time is avoided. This centralizer significantly reduces insertion forces and drag, and the unit does not need to be pulled into the well as the design allows for normal run-in-hole (RIH) methods, so it goes down under its own mass.

Standoff is key to success once in the open hole and the UROS-CT provides the highest levels of standoff, better well clean-out during well conditioning, and improved cement displacement to ensure good zonal isolation as well as minimizing corrosion later in the life of the well.

"The UROS-CT is being used at various water depths from 5,000 feet and beyond. With spread costs for a drill ship equating to roughly $700 per minute, avoiding problems on RIH is of paramount importance, as is saving make-up time at the surface. Providing the right quality tool for the job is one our primary goals" said Cliff Berry, Vice-President, Global Business Development at Centek Group. "In deep water wells you may have up to nine strings running through each other so the tolerances are incredibly tight therefore a tool to maximize the cement job is of vital importance."

The UROS-CT is being run successfully off Norway, Brasil, Brunei, and Malaysia, and is now being used in the Gulf of Mexico by both US and Mexican operators. The UROS-CT size range is available from either the UK or USA plants.