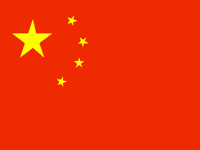 Chinese crude oil imports dropped in October by 1.4 mb/d or 23% from the previous month to average 4.8 mb/d, the lowest level since August 2012. This decline came after Chinese crude imports reached a record high the previous month for stock building purposes. Annually, Chinese crude imports were lower by 771 tb/d or 14%. A year-todate analysis of the figures reflects an increase of 203 tb/d or 4%.

Crude imports came mainly from the following top suppliers: Saudi Arabia, Angola, Oman and Russia, with shares of 22% 16%, 11% and 10%, respectively. Quantities from Saudi Arabia and Angola were down by 9% and 22%, respectively. Meanwhile, Chinese product imports were lower in October by 147 tb/d from the previous month and 18 tb/d from one year earlier to average 924 tb/d.

Chinese crude exports declined in October by 9 tb/d to average 25 tb/d. However, product exports increased over last month's level by 28 tb/d to average 664 tb/d. As a result, China's net oil imports dropped by 1,629 tb/d or 24% from the previous month and 15% from a year earlier.