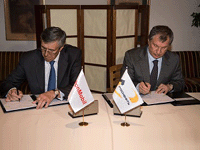 Rosneft and ExxonMobil signed documents establishing a joint venture to implement a pilot project for tight oil reserves development in Western Siberia as part of the implementation of the agreement on strategic cooperation. Rosneft will hold 51 percent interest and ExxonMobil will hold 49 percent interest in this project.

The JV will implement a pilot work program in order to assess and determine the technical possibility of developing the hydrocarbon reserves, reservoirs and accumulations of the Achimov and Bazhenov formations in Western Siberia. Joint exploration work for the Achimov formation will be performed on 17 license blocks, while joint exploration work for the Bazhenov formations will be performed on 20 license blocks in the region of RN-Yuganskneftegaz work.

The plan is to perform the pilot work program within 2013-2015 timeframe. For this purpose, ExxonMobil will provide carry-financing worth of up to USD 300 mln. Based on the pilot work program results the partners will take a decision on initiating the large-scale development of tight oil reserves.

Commenting on the JV establishment, Igor Sechin, Rosneft President and Chairman of the Management Board, said: "Developing tight oil reserves in Western Siberia is becoming increasingly important for the Company and the country in general, as it will boost oil production volumes in Russia. The joint implementation of the pilot projects will allow the use of ExxonMobil's experience and technologies in the area of tight oil production and their application to the development of the low-permeability reservoirs in Western Siberia".