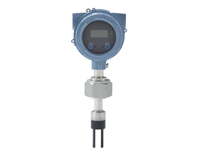 Emerson Process Management has released the Micro Motion Fork Viscosity Meter, the next generation of the market-leading Micro Motion 7827 and 7829 direct insertion viscosity and density meters. Incorporating the same rugged and reliable tuning fork design as its predecessors, the Fork Viscosity Meter is built to tackle demanding process applications such as oil fired heater combustion control, HFO blending/production and pump protection.

In applications where accurate, fast-response viscosity and density monitoring is required, the direct insertion Micro Motion Fork Viscosity Meter is the ideal choice. The meter helps solve problems customers face on a daily basis, such as reducing oil fired heater combustion emissions, minimizing cutter-stock usage in HFO blending and reducing contamination risks on multi-product pipelines.

The Fork Viscosity Meter incorporates a hazardous area approved head-mounted transmitter that has the flexibility to connect to control systems via a wide range of digital and analog protocols. Because it supports 4-20mA, HART, WirelessHART, Foundation fieldbus and RS485 Modbus, system integration and start up/commissioning costs are significantly reduced.

An additional benefit of the Fork Viscosity Meter is the capability of accepting and processing external signals from other field instrumentation such as temperature, pressure and mass/volumetric flow devices. The input of these external measurements enables the Fork Viscosity Meter to calculate and output enhanced process measurements while minimizing installation and cabling costs.

The Fork Viscosity Meter also incorporates a new diagnostic capability called Known Density Verification that checks the meter for measurement alarm conditions, sensor integrity and the presence of coating, erosion or corrosion. This new technology expands the availability of diagnostics information in critical viscosity and density measurement applications which can result in significant maintenance costs and cycle time reductions.