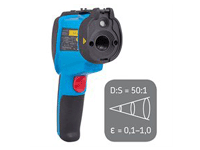 SKF has launched the SKF TKTL 40, a portable, lightweight, multi-functional instrument for measuring temperatures from a distance. The SKF TKTL 40 is the only infrared thermometer in its class that can take photos and videos showing the temperatures measured, enabling engineers to measure surface temperatures with greater ease and safety.

Failing to detect abnormal temperatures can result in unplanned machine downtime, while high temperatures can cause lubricant and bearing damage. The SKF TKTL 40 offers technicians an accurate, easy-to-use thermometer with which to prevent such problems and measure temperature safely.

"The SKF Infrared Thermometer TKTL 40 is an extremely versatile instrument for use by maintenance technicians and HVAC (Heating, Ventilation and Air Conditioning) professionals. With photo and video capability, the TKTL 40 allows the readings to be reviewed and shared, helping the whole team to directly visualise the situation," says Jens Kammann, SKF Product Manager.

The SKF TKTL 40 allows a number of environmental properties to be simultaneously measured and displayed, making the device ideal for HVAC professionals. All measurement information taken including environmental properties such as ambient, dew point and wet-bulb temperatures, as well as relative humidity can be stored, recalled and exported to PC.

With a distance-to-spot ratio of 50:1 the SKF TKTL 40 enables accurate temperature readings of very small areas, even at long measuring distances and the user selectable variable emissivity between 0,1 and 1,0 allows most surface temperatures to be measured accurately. The user simply aims and pulls the trigger and the temperature is shown on the display, while two laser points indicate the targeted area for the measurement. In addition, the TKTL 40 is supplied with a probe and allows temperatures to be simultaneously measured with direct contact and infrared.

The SKF TKTL 40 offers a wide infrared temperature measurement range from –50 to +2,300 °C (–58 to +4,172 °F). Contact measurements can also be made, ranging from –50 to +1,370 °C (–58 to +2,498 °F).

The thermometer is equipped with a back-lit display, dual laser sighting, a K-type probe connection and a bright LED illuminator, allowing the subject to be seen even in poorly lit environments. A data logging function can be used to visualise temperature changes over time, while users can select high and low alarm levels with audible warning signals. For extended service time, a user-selectable auto shut-off feature optimises the rechargeable battery life, while the device itself is supplied in a sturdy carrying case. The SKF TKTL 40 is also one of few similar thermometers in the market that comes supplied with a probe for direct contact temperature measurement.