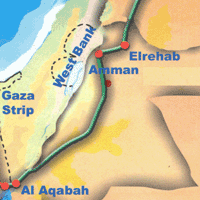 Amman - 26 January 2004 - The Egyptian, Jordanian, Syrian and Lebanese prime ministers on Sunday signed the agreement of the second phase of the Arab Gas Pipeline.

The second phase extends over 390 km from the city of Aqaba to the Rehab in Jordan just 24 km from the Syrian boarder with 36-inch diameter and capacity of 10 billion cubic meter per year to face the increasing Arab markets demand of natural gas.

This phase had been awarded in August 2002 to the Egyptian consortium (EGAS, Petrojet, Enppi, and GASCO) on a Build, Own, Operate and Transfer (BOOT) base. The Egyptian Companies will manage, operate, develop and maintain the pipeline for a period of 30 years with optional extension period of 10 years after this period the ownership of the project will be transferred to Jordan.

The third phase will extend from north where the Jordanian-Syrian borders to the Turkish-Syrian boarders and from the west to Banias and Tripoli in Lebanon.

During the ceremony three important agreements had been signed:
The first agreement covers the gas sales between Al Fajer Company and the National Electricity Power Company (Nepco) for ultimate use at power stations in the north of Jordan.

The second agreement is to sell gas from Egypt's Al-Sharq Gas Company -which had constructed the first phase of the project from Arish to Aqaba- to Al Fajer Company.

The third agreement is for financing the project between the Egyptian consortium and a Jordanian bank.