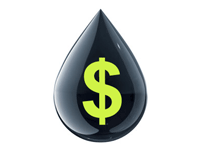 The total open interest volume (OIV) in major commodity markets in the US increased slightly by around 0.15% m-o-m to 8.7 million contracts in April as agriculture and copper OIV's improved by 2.9% and 1.4%, respectively. Crude oil, natural gas, precious metals and livestock OIV's were down by 0.3%, 4.9%, 4% and 5.1%, respectively. Gold OIV decreased sharply this month by 9.6%.

Total net length speculative positions in commodities increased by almost 2% m-o-m to 1,636,230 contracts in April amid mixed activities, with moderate increases in crude oil positions and a significant drop in net length of natural gas and precious metals.

Agricultural OIV was up 2.9% m-o-m to 4,418,306 contracts in April. Meanwhile, money managers' net long positions in agriculture continue to increase by almost 10% to 915,419 lots in April. The move took place as the futures market soared 4% late in the month on fear of a possible loss of output from cane crop damage in Australia and Brazil.

Henry Hub natural gas's OIV decreased further by 4.9% m-o-m to 1,107,492 contracts in April. Money managers decreased their net length positions again by a hefty 19% to stand at net long positions of 111,963 lots as the winter heating season demand diminished and storage rose to healthy levels.

Copper's OIV increased 1.4% m-o-m to 155,833 contracts in April as investors reduced their net shorts by 14% to 12,846 contracts. Nevertheless, weak demand from downstream sectors continued weighing on the recent performance, indicating investor's concerns about the outlook for the metal.

Gold's OIV decreased by 9.6% m-o-m to 367,755 contracts in April. Hedge funds and money managers cut their bullish bets in gold futures and options, as expectations of a stimulus cut by the Federal Reserve dented the metal's appeal as a hedge. Strong US home sales data sent gold prices briefly below key technical support at $1,270 an ounce, paring the gains made on concern about increasing violence in Ukraine.