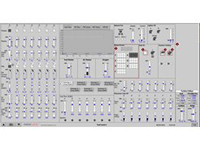 Alstom signed a licensing agreement with PAS, Inc., a leading provider of 'human reliability' software and graphics to enhance reliability, efficiency and safety in their new and existing power generation control rooms, to create Alstom PowerGraphiX™, the latest in high performance Human-Machine Interface (HMI) displays.

Based on close collaboration with key customers, Alstom has identified a need to transfer best practice HMI technologies from the oil and gas industries to power generation. Alstom PowerGraphiX™ will significantly simplify control room screen designs to improve operator efficiency and prioritize critical information. The result will be an operating environment that is streamlined and simplified, allowing operators to quickly access key information and diagnose priority issues based on focused root cause analysis.

"We conducted in-depth interviews with a large cross section of power plant operators and maintenance teams and there was overwhelming consensus that control room operations need to be simplified to enhance efficiency and reliability and to reduce human error," said Steve Meszaros, Senior Vice President, Gas Business at Alstom. "This partnership combines Alstom's global leadership in power plant design, operation and maintenance with PAS's proven HMI software and graphics platform."

"We are delighted about our partnership with Alstom to deliver best-in-class power plant operator graphics with PowerGraphix," said Mark Carrigan, PAS' Vice President of Technology. "PowerGraphix transforms the way operators visualize information and respond to abnormal situations."

Alstom PowerGraphiX™ will be introduced in combined-cycle generating facilities as part of the company's service offering.