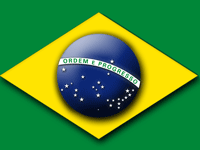 Private consumption, the largest part of the GDP's equation, exhibited a slower pace of growth at 2.2% y-o-y in 1Q14 compared to 2.5% in 1Q13. Real gross capital formation (GFCF) also showed worrisome contraction, decreasing by 2.1% y-o-y. The drivers of growth in 1Q were government consumption, which rose by 3.4% y-o-y from 2.4%, in addition to slower imports and higher exports. Exports reversed the contraction seen in 1Q13 of 5.7% y-o-y to register a growth of 2.8% y-o-y in 1Q14. Import increases slowed to 1.4% y-o-y in 1Q14 from 7.5% in the corresponding quarter of last year.

For the third consecutive month, the manufacturing sector of Brazil has decelerated last month as revealed by the manufacturing PMI. June's reading pointed to 48.7, down from 48.8 in the previous month. New business slowed for the third month in a row. Firms reported the fastest rate of production drop since September 2011. The fastest decline was reported among intermediate goods producers. All three market groups registered lower production. Part of the deterioration is attributed to slower domestic demand that is partly linked to the World Cup. Still, however, it cannot be entirely separated from downturn signals in the economy. The services sector in Brazil improved in June due to increased business activity with the sharpest expansion in hotels and restaurants. The services PMI increased to 51.4 in June, up from 50.6 in May.

In May, the budget deficit widened to 32.4 billion reals, from 4.6 billion reals in April on increased social spending and tax breaks for companies. Aside from its negative impact of the country's credit rating, the expansionary fiscal policy is seen as fueling higher inflation. Consumer price inflation breached the 6% mark in May for the first time since August 2013. Inflation posted a 6.1% y-o-y increase. The Central Bank of Brazil kept its benchmark interest rate intact last month at 11.0%. Exports, on the other hand, declined in June for the fourth consecutive month, dropping by 3.2% y-o-y.

The consumer confidence index in Brazil stayed largely unchanged last month at around its lowest reading since April 2009. The index posted 101.5 last month, compared to 101.3 a month earlier. The indicators this month point once again to a deceleration in exports accompanied by a weakening sentiment among consumers, shrinking investment and lower manufacturing activity. Besides the positive effects expected from the World Cup on domestic business, it appeared to have a negative impact on inflation, domestic demand and hence on manufacturing. That said, the forecast for 2014's GDP growth is pared back this month to 1.6% from last month's figure of 2.0%. With the structural issues and anticipated capacity bottleneck largely in place next year, 2015's GDP is anticipated to post 1.8%, a more or less similar pace of acceleration.