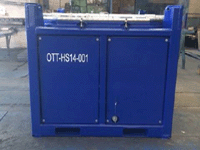 Suretank in joint partnership with Norwegian company Onsite Treatment Technologies (OTT) has developed a new heated mud container. OTT is a complete supplier of high pressure pumping equipment for offshore well intervention and well pumping operations.

The mud container has all the standard features of offshore mud containers (mud skips) and is fully certified to DNV 2.7-1 and EN 12079.

While operating in colder climates, the contents often become frozen, and the mud skips are rendered redundant for long periods depending on temperature. To solve this problem, this container includes a network of channels which allow heat to be input to the cargo thereby thawing the contents sufficiently to empty the container.

This is in response to an increasingly common problem as exploration moves to harsher environments, and is a good example of the type of engineered solutions offered by Suretank to practical problems.

The container is being launched at ONS 2014, and can be viewed at the OTT stand, (Hall U Outdoor Stand 70).

Offshore Northern Seas (ONS) is one of the key industry exhibitions and conferences for the offshore oil and gas industry and will be held in Stavanger from 25th to 28th August 2014, at the Stavanger Forum.