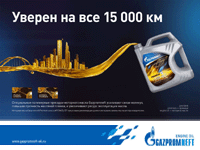 Gazprom Neft has launched the first national and CIS campaign to advertise Gazpromneft branded engine oils, using TV, press, Internet and outdoor media in 52 cities of Russia and Kazakhstan, Belarus, Uzbekistan and Kyrgyzstan.

The campaign concept, led by the slogan "15 000 km of confidence", emphasizes the main benefit of Gazpromneft oils: increase of the period between oil changes by the use of high-tech polymer additives.

The TV spot, created by Glassworks studio in Barcelona, highlights key performance features of Gazpromneft engine oils: reliable engine protection throughout the period of their use, enhanced cleaning and anti-corrosion qualities, and high- and low-temperature tolerance. The products meet international standards and have been approved by leading auto manufacturers.

More than 60 types of synthetic, semi-synthetic and mineral oils for car and truck engines (petrol and diesel) are produced under the Gazpromneft brand, as well as transmission fluids, lubricating greases and technical liquids. Most of production is at the Company's Omsk Lubricant Plant.