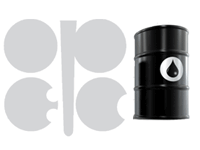 US oil production is estimated to increase by 1.45 mb/d in 2014, the largest growth among all non-OPEC countries and the largest in US history, to average 12.67 mb/d, constituting an upward revision of 0.04 mb/d from the previous month's estimation. This revision affected 2Q, 3Q and 4Q figures, with the highest impact occurring in the second half of the year, as updated production data showed stronger growth than previously expected. US oil production increased by 0.18 tb/d in September m-o-m, to average 13.04 mb/d. This amount consists of 8.86 mb/d of crude oil, 3.13 mb/d of NGLs and 1.04 mb/d of other liquids. The revision was supported by record-high crude production from main shale plays in September on the back of a continued increase in the development of tight oil output.

During the first nine months of 2014, North Dakota's crude output averaged 1.05 mb/d, an increase of 0.22 mb/d, which is a production growth of 26% compared with 31% over the same period one year earlier. The average of nine months of production in Texas indicates growth of 0.58 mb/d, 24% higher than same period in 2013 compared with 30% growth in 2013. Eagle Ford currently accounts for 16% of US oil production. More than half of Eagle Ford's production comes from 10% of its 20 thousand square miles. The Eagle Ford shale play in South Texas has produced more than 1 billion barrels of crude oil and condensate, based on a Wood Mackenzie estimate, having produced more than 70% of that total in the last two years. The Eagle Ford will produce 2.8 mboe/d in 2015.

Analysts forecast capital expenditure of $30.8 billion for the Eagle Ford shale play during 2015 compared with Wood Mackenzie's forecast for $16.7 billion to be spent on the Bakken formation in North Dakota and Montana next year. Production contributing to the Eagle Ford 1-billion-barrels mark started in 2008. Total crude oil production in September 2014 increased by 0.17 mb/d m-o-m, but a minor decrease was seen in Kentucky, New Mexico and the Gulf of Mexico (GOM). Nevertheless, crude oil and natural gas production has begun at the Jack/St. Malo project in the Lower Tertiary trend, deepwater GOM. Production from the first development stage is expected to ramp-up over the next several years to a total daily rate of 94 tb of crude oil and 21 mcf of natural gas. With a planned production life of more than 30 years, current technologies are anticipated to recover in excess of 500 million oil-equivalent barrels.

Since September, two other deepwater projects besides Chevron's Jack/St. Malo have commenced production; the Cardamom Deep and Tubular Bells fields. Production started up in Cardamom in early September and is expected to peak at nearly 40 tb/d by the second quarter of 2015, and Tubular Bells, which came online in mid?November, is expected to peak at near 35 tb/d, despite having a capacity of 60 tb/d. Since deepwater projects in GOM or any profitable projects in other offshore locations in the world – Brazil and Western Africa, for instance – have a long timeline with an average of four years between final investment and first production, these projects are not sensitive to short-term price pullbacks.

Moreover, it is forecast that oil output from three additional projects will come on stream next year with total capacity of 235 tb/d – Lucius is expected to commence production within the next couple of weeks, Delta House is expected to start up in the second quarter of 2015, and ramp-up to nearly 50 tb/d by year's end and Big Foot will not start until the third quarter of 2015. Nevertheless, the Big Foot project is expected to add 55 tb/d to GOM's output by the end of 2015. In addition to these new projects, output growth in 2015 will be driven by the continued ramp-up of Mars B, Na Kika phase 3, and the Atlantis phase 2 developments. Production will rise by 0.22 mb/d by the end of 2015.

In addition, the US natural gas liquids (NGLs) supply experienced healthy growth, particularly NGLs produced from unconventional sources of shale and tight gas. During the third quarter, the US oil supply averaged 12.91 mb/d, a growth level of 1.45 mb/d from the same period a year earlier. Further revision to the US supply figure is possible in the coming months as more production data becomes available. On a quarterly basis, the US oil supply in 2014 is seen to average 11.96 mb/d, 12.69 mb/d, 12.91 mb/d and 13.10 mb/d, respectively.