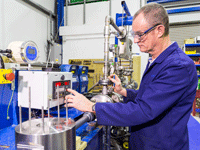 Litre Meter has launched the last in a series of four oil and gas industry safety surveys. The survey is designed to enable manufacturers and resellers of process instrumentation to test assertions about functionality, construction and quality of manufacture. The new survey concentrates on international standards of test and calibration. One lucky respondent will win a Kindle for taking part.

The widely accepted standard to prove competence in test and calibration is ISO17025. Most establishments carrying out test and calibration work are required to hold ISO17025 accreditation but not all do. It is applicable to all organisations performing tests and/or calibrations. These include, for example, first-, second- and third-party laboratories and facilities where testing and/or calibration forms part of inspection and product certification.

The ISO/IEC 17025 standard comprises five elements; scope, normative references, terms and definitions, management requirements and technical requirements. The most important of these are management requirements and technical requirements.

Management requirements are primarily related to the operation and effectiveness of the quality management system within the laboratory. Technical requirements include factors which determine the correctness and reliability of the tests and calibrations performed in laboratory.

Laboratories use ISO/IEC 17025 to implement a quality system aimed at improving their ability to consistently produce valid results. It is also the basis for accreditation from an accreditation body. Since the standard is about competence, accreditation provides formal recognition of a demonstration of that competence. A prerequisite for a test facility to become accredited is to have a documented quality management system. The usual contents of the quality manual follow the outline of the ISO/IEC 17025 standard.

Meeting the requirements of ISO17025 can help avoid the potential failure of a critical component which could lead, in the worst case, to a catastrophic failure of a process and loss of life.

Litre Meter CEO Charles Wemyss said: "There has been increased focus on safety issues in the offshore sector over recent years. We want to make sure that our manufacturing focus is on safety in relation to both the environment and industry trends.

"Issues surrounding the environment and hydrocarbon releases, asset aging and life extension drive the focus on safety. We want to be able to help in the process of recognising hazards and reducing risk as well as help engineers take ownership of risk and asset integrity through proving assertions about the functionality and construction of instruments.

"Asset integrity management ensures that the people, systems, processes and resources that deliver integrity are in place, in use and will perform on demand over the asset's lifecycle.

"Being able to prove assertions about the manufacture and functionality of equipment are vital in this process."

Over the past 12 months Litre Meter has conducted surveys of the use of Safety Integrity Levels (SIL) in the specification of instrumentation in the oil and gas sector, the relevance of the EU Pressure Equipment Directive outside Europe and Positive Material Identification (PMI).