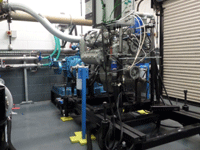 Prior Diesel, a Suretank company and leading supplier of diesel driven power solutions and well service products to the oil and gas, marine and industrial sectors, has invested in a highly sophisticated engine test house. Capable of dynamometer testing engines up to 2000 horse power, the modern test cell is optimised to accommodate any OEM demanding engine characteristics, with advanced cooling capacity, fully adjustable engine bed, incorporating the Da-Taq prolog software suite.

Gordon MacLean, joint managing director at Prior Diesel commenting on the new facility said: "This significant investment will allow us to further enhance the product offering and service that we offer to our customers whilst strengthening our position as a market leader in the servicing and refurbishment of diesel and gas engines.

"The new equipment will allow us to optimise engines to a higher level, more quickly and efficiently, minimising excessive downtime. Our end users can feel confident that they have a high quality, reliable product that meets stringent environmental and safety standards."

As a supplier of new and reconditioned diesel and gas engines and related components for more than 30 years, Prior Diesel represents and supplies many leading engine, transmission, pump and well service product manufacturers supplying to customers worldwide, as well as offering packaged solutions such as Zone II powerpacks, Power Generation sets and Hydraulic powerpacks.

All of its new products are supported by thriving service and parts departments that specialise in engine rebuilding, maintenance contracts and supplying components for most of the leading engine, transmission, pump and equipment manufacturers.

Prior Diesel has as an established reputation in the design, manufacture and servicing of a wide range of well service equipment including nitrogen pumps, specialist skids, coil tubing and wireline units.

During its 30 year history Prior Diesel has established strong relationships with many of the world's leading oil service companies both in the North Sea and beyond.

Prior Diesel was acquired by Suretank in January 2015. Suretank is a global leader in the supply of tanks and CCUs (Cargo Carrying Units) to the offshore oil and gas industry. The company has design and manufacturing facilities in Ireland, Brazil, China, the Netherlands, Poland, Thailand, UK and USA as well as sales offices in Australia, Malaysia, Nigeria and Norway.