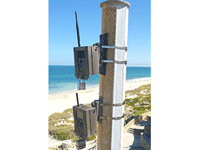 Marine and coastal environment specialist, BMT Oceanica (BMT), a subsidiary of BMT Group Ltd, has won the tender to be the sole consultant delivering the Town of Cottesloe's (ToC) project 'Coastal Monitoring to Improve the Understanding of Long-Term Coastal Change'.

The project will develop an ongoing coastal monitoring programme that will initially involve the collection of remote imagery at the coastline and twice-yearly beach profile surveys. This will assist in formulating a better understanding of coastal change, informing future decision making regarding the management of the coastline and facilitating improved planning for future coastal protection and adaptation work.

BMT's scope of work covers a review of existing information on local coastal dynamics; design and implementation of remote imagery monitoring and analysis of remote imagery, together with the beach profile data collected in-house. The innovative, cost-effective monitoring regime involves the use of remote imagery units to capture still imagery of the beach every hour.

Vicky Walkley, coastal geomorphologist and project manager at BMT Oceanica, comments: "The remote imagery monitoring service provides a simple, flexible and cost-effective tool which can inform and improve coastal management decisions. With the increasing need to monitor the effects of climate change on our coastlines, we expect the use of this technology to expand over the coming years."

Once the Town of Cottesloe has completed the second beach profile survey, BMT Oceanica's dedicated team of coastal scientists will draw on over 15 years' of experience in coastal science to analyse the beach profile data along with the remote imagery, to define key mechanisms and drivers of significant coastal change where possible.

Melissa Rachan, Sustainability Officer at the Town of Cottesloe comments: "BMT Oceanica has done an excellent job of providing us with exceptional service and project management expertise. Its extensive experience in deploying remote imagery units made them the ideal candidate for this project. The team has been outstanding to work with, providing prompt responses and expert advice, as well as having a high regard for safety. The Town looks forward to working closely with BMT over the next year to establish baseline data for this study, being the first of its kind in Cottesloe."

BMT Oceanica has been initially engaged to assist with the first year of this monitoring project, and it is expected that the coastal monitoring at Cottesloe will continue long into the future to provide an understanding of long-term coastal change. BMT Oceanica's work will set the benchmark for how future monitoring is carried out, and will ensure a reliable baseline dataset against which future monitoring data can be compared.